<![if !vml]>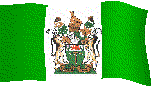 <![endif]>
LATEST RHODESIAN NEWS
---
The Kent Branch of the Rhodesians Worldwide organisation held a very successful and enjoyable monthly braai in May 2022, at which many new supporters and friends were in attendance. Pictured below are some of the over 50 people who participated, relaxing outdoors after a really well organised braai.
<![if !vml]>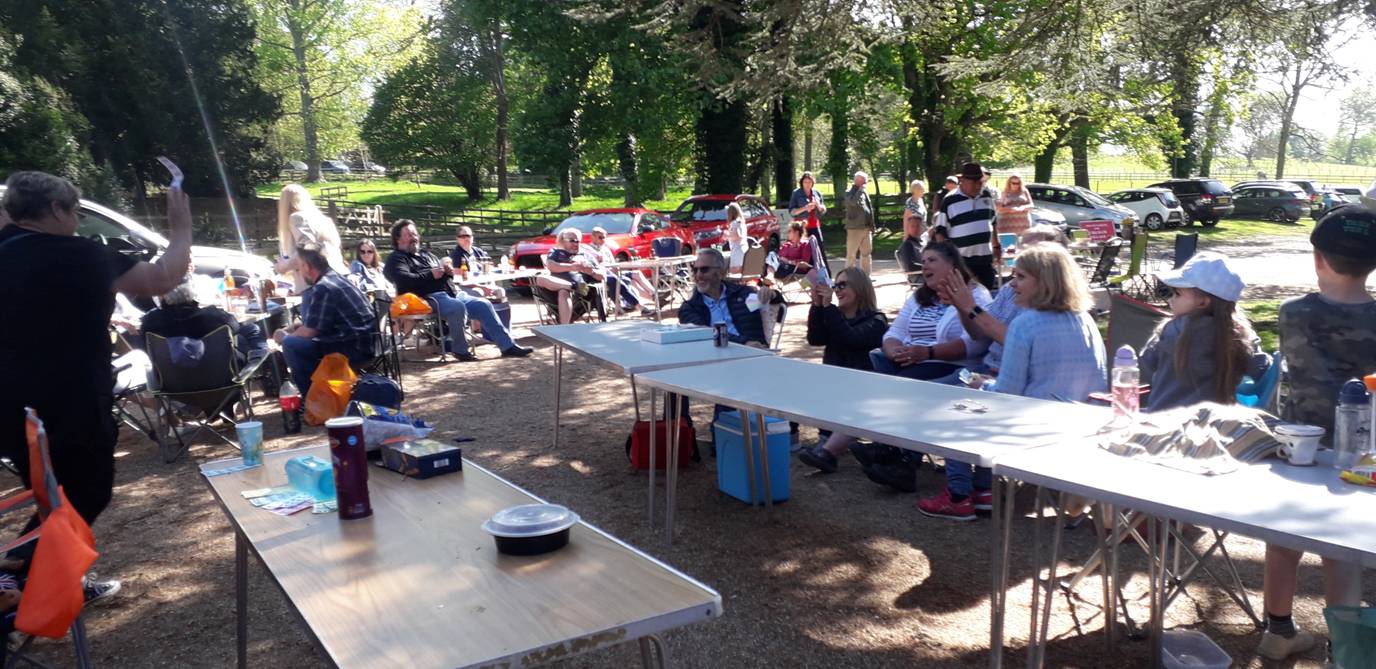 <![endif]>
<![if !vml]>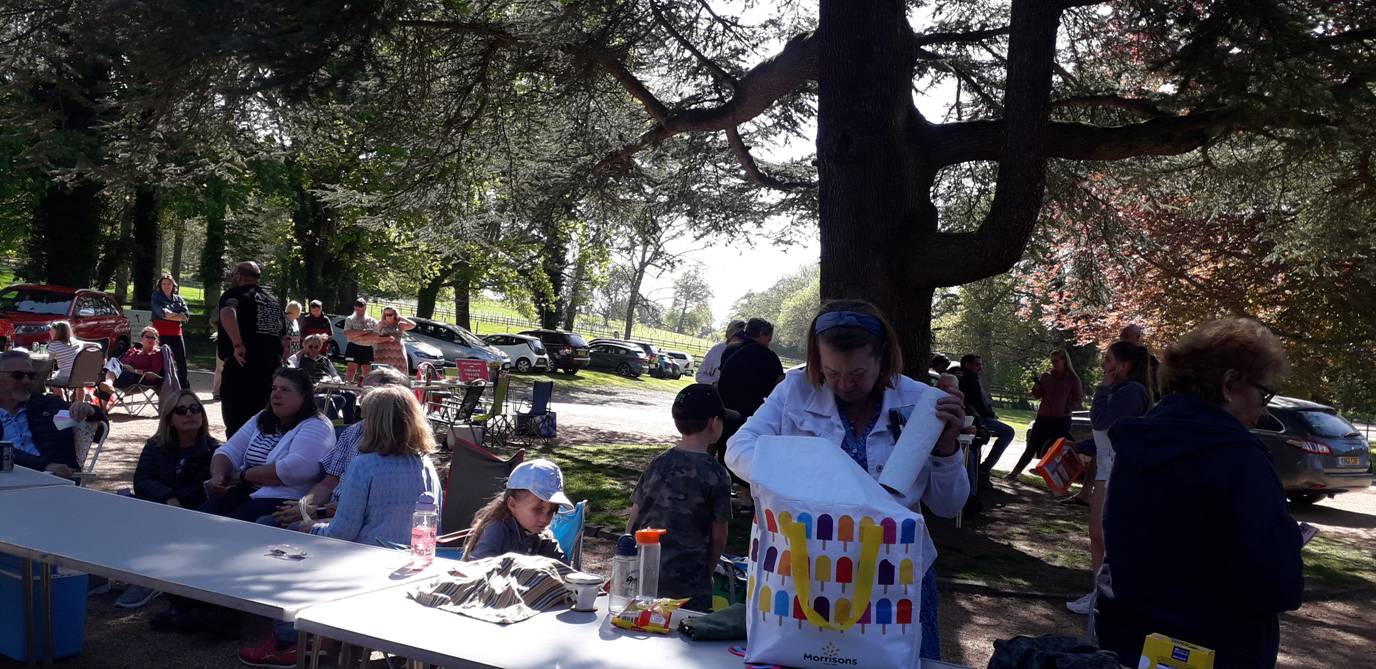 <![endif]>
---
https://wjla.com/news/local/police-high-level-embassy-of-zimbabwe-diplomat-breaks-into-home-gets-diplomatic-immunity
- report sent by a supporter from the United States, March 5, 2020
---
- The Zimbabwean, October 16, 2017
---
| | | |
| --- | --- | --- |
| <![if !vml]><![endif]> | <![if !vml]><![endif]> | <![if !vml]><![endif]> |
The annual "Raising of the Flag" ceremony in Norfolk, whch this year took place on Sunday 10th September 2017, again proved a most enjoyable and inspiring success. Unfortunately the threat of inclement weather meant that the event had to be held inside the estate's main barn this year, which in spite of certain drawbacks did even so mean that the music provided by the Cromer and Sheringham Brass Band seemed more rousing and inspirational than ever. This event commemorates the anniversary of the foundation of Rhodesia in 1890, when the Pioneer Column reached the site of what was to become the capital city of Salisbury, and hoisted the Union Flag on 13th September. It was therefore particularly significant this year that the Union Flag was raised by Mr.Andy Hope-Hall, who is a great-great-nephew of Lt."Teddy" Tindale-Biscoe who actually hoisted the original Union Flag in 1890! Pictured above is [left] Mr. Hope-Hall giving a truly captivating speech just after hoisting the Flag (which can be seen in the background), [centre] some of the flags and other Rhodesian artifacts which adorn the rooms of Southrepps Hall, and [right] the double yard-armed flagpole at the entrance to Southern Rhodesia Avenue opposite Southhrepps Hall, which this year flew the Union Flag, the Australian Flag and the post-UDI Rhodesian Flag.
---
In Zimbabwe things have turned to the worse. Even if you have money in the bank you can draw very little of it. The banks are short of US$ notes which is the preferred currency. A lot of dollars were captured by the top dogs and taken out of circulation. After local manufacturers closed down in big numbers and farms were seized by the Mugabe regime very little is left for export in exchange for foreign currency. To make matters worse almost everything needs to be imported which requires foreign money.
- report sent by DvdME, July 18, 2017
---
<![if !vml]>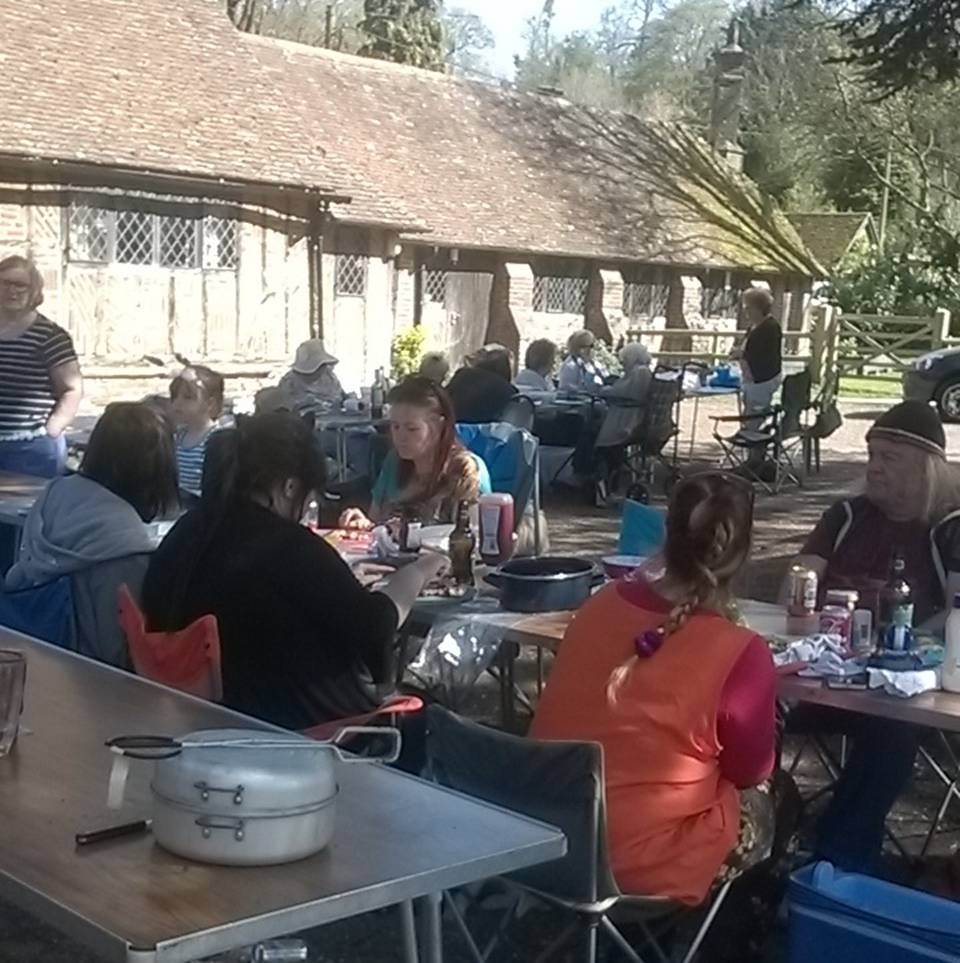 <![endif]>
Scene at Rhodesians Worldwide Kent Branch braai – April 2017.
---
<![if !vml]><![endif]>
Although it hasn't been mentioned on this site for some time, the Kent Branch of the Rhodesians Worldwide organisation continues to thrive and proves a vibrant and estimable vehicle for the Rhodesian diaspora to keep the Rhodesian spirit and ideals alive. Regular monthly braais are held throughout the year at a picturesque venue in mid-Kent, and pictured above are three of the branch stalwarts at the March 2017 braai – from left to right: Terry Oliver, Ian Oliver and Simon Pegg.
---
A Zimbabwean pastor who predicted President Mugabe will die on October 17 has been charged with "causing offence to persons of a particular race or religion". Pastor Magadza claimed God told him on Boxing Day that Mugabe, who turns 93 next month, would die in October. Pastor Magadza was previously detained for protesting against Mugabe's government.
- Daily Telegraph, 18 January 2017
---
| | | |
| --- | --- | --- |
| <![if !vml]><![endif]> | <![if !vml]><![endif]> | <![if !vml]><![endif]> |
The 2016 "Raising of the Flag" ceremony, which took place in the grounds of Southrepps Hall in Norfolk on 11th September 2016, proved a great success. This event, which commemorates the foundation of Rhodesia in September 1890 by the raising of the Union Flag by the Pioneer Column in what became Salisbury, was re-enacted every year at Cecil Square, Salisbury, from 1891 until 1979. From 1980 onwards, however, it has been re-enacted in Norfolk, the home of Mr. Peter Sladden, the Lord of the Manor of Southrepps. Pictured, from left to right, are: Mr. Peter Sladden and Sgt. Graham Gillmore (ex-RLI) who acted as Parade Commander; the actual Raising of the Flag by Mrs. Carol Walsh and Mrs. Laura Kirkwood (both Rhodesian-born); a section of the large crowd at this year's ceremony in front of Southrepps Hall. Click here for the text of one of the keynote speeches at the 2016 event.
---
Five game poachers were 'shred to pieces' and three more seriously mauled after a pack of lions attacked a group of armed men in Zimbabwe's Hwange National Park in the Matabeleland North province. Zimbabwean police say the victims are known 'local' poachers who were illegally hunting for elephants inside the boundaries the national park. They were 'surprised' by a group of almost twenty adult Southwest African lions. The Southwestern African lion as the same species as Cecil the Lion who were shot a couple of kilometres away in July last year. Five of the ten men were killed on the spot, three severely injured and two escaped with minor injuries. All the animals were unhurt. Zimbabwe Police Commissioner-General Augustine Chihuri said in a statement the surviving poachers abandoned their dead and ran for their lives. He hopes the terrifying experience serves as a lesson to other poachers. All the surviving members of the gang were arrested in a nearby village where they were pleading for medical attention. Zimbabwe News quotes Commissioner-General Chihuri as saying "the men were visibly traumatised by the attack… and after seeing their injuries and the remains of their dead comrades, I can see why. These guys are tough criminals carrying AK-47s, but they were literally shred to pieces and devoured by the lions. I have never seen an animal attack reach this level of violence, and I have seen a lot! [It was] a horrible blood bath". He said there were bones and bits of flesh scattered over hundreds of square metres.The surviving poachers will now face criminal charges, including illegal-hunting, possession of illegal weapons and contravening the Parks and Wildlife Act.
- report sent by GML, Cape Province, South Africa, August 31st, 2016
---
Panic set in at the Reserve Bank who recognised that if nothing was done the whole banking system could crash taking with it what remained of the formal economy. So yesterday we saw a whole raft of measures by the Reserve Bank designed to curb the demand for cash and to try and protect the Banks. In particular the Reserve Bank Governor did something that until now has been totally taboo – he announced that the printing presses were running again and that a range of "Bond" notes would be introduced with a face value of 1 US$ to 1 Bond Note. He also announced controls on imports to protect the balance of payments and restrictions on daily cash withdrawals – something that is already in force by the Banks themselves and some limiting withdrawals to a small sum (as low as $20 a day). Some of his actions were difficult to understand – he announced that exporters would be credited with export proceeds in the proportions of 50% US$, 40% Rand and 10% Euros. Even as he spoke the Rand collapsed by 5 per cent and is expected to continue to depreciate and this underlines the negative view of the public of the Rand as a store of wealth and exchange. When the new currency notes are introduced I doubt if they will find acceptance in the markets. Certainly any attempt to pay the Civil Service in Bond currency would be fiercely resisted. What we have here is a perfect financial firestorm and in my own view the final collapse of the economy is threatened. So what can be done; the first thing is to face up to the truth of the matter. This government has failed completely and does not have a clue as to what to do. They must deal with the political crisis that this creates as a first priority – Mugabe must retire immediately. Then we need a National Government made up of our best people irrespective of political affiliation and put them in charge of our affairs with a mandate to fix things. Their first priority must be to complete the re-engagement process initiated by the MDC in 2012 and to restore normal political and economic relations with the rest of the World. Then we have to cut our cloth to fit our capacity and to introduce tough fiscal and monetary controls and changes. These should not in any way interfere with the economic freedoms gained in the GNU and restoring confidence and hope in the country has to be a top priority – without confidence and hope no recovery is possible. This time we do not have the regional or the international community to rescue us and if we do not do this ourselves, we have only ourselves to blame for the consequences.
- report sent by Eddie Cross, May 6th 2016
---
Zimbabwe's First Lady Grace Mugabe's aide, Olga Bungu, has acquired a court order to kick white dairy farmer Gillian Munn off a farm in Goromonzi. The Goromonzi Magistrates' Court last week gave Munn 45 days to vacate the farm, which means she will have had to have done so by November 26. Munn has been staving off pressure from Bungu – a deputy police commissioner – to vacate the 209-hectare Mashonganyika Farm, which is about 50km to the east of the capital Harare [Salisbury], for the past five months. The farm produces over 10,000 litres of milk a month and has around 115 hectares of maize. Munn said the court ruled that the dairy permit she had was "not valid" since it had not been issued by the Ministry of Lands and that she had been "illegally residing at the farm" for the past 13 years. Gillian co-owned the farm with her former husband Allan Munn before they divorced and he went to France. Meanwhile, another White commercial farmer also risks losing his farm after Lands, Land Reform and Resettlement minister Douglas Mombeshora approached the Bulawayo High Court to evict Michael Norman Conoly from Boxwell Farm in Matabeleland South province. Mombeshora filed at the High Court last Tuesday that he was an authority in whom powers over all prime lands were vested and that he was the watchdog in the administration of the Land Acquisition Act, hence his seeking to evict Conoly. The Lands minister submitted he had also found beneficiaries of the land reform programme for the farm and had even issued them with offer letters "In terms of the provisions of the Land Acquisition Act in furtherance of the land reform programme, the plaintiff lawfully acquired for resettlement the farm from the efendant, the former owner," he made submissions through the Attorney-General's Office. "Despite demand and despite the land having been lawfully acquired, the defendant has failed or refused or neglected to vacate the farm and make way for the said new offer letter holders. Defendant is neither an offer letter holder, nor does he have any legal basis to remain on the farm without the consent and authority of the plaintiff."
- report sent by JMcL, October 21, 2015
---
Zimbabwe Cricket bans Vermeulen for calling Blacks 'apes'. Zimbabwe Cricket has, with immediate effect, banned Mark from participating in all cricket activities, after he owned up to repulsive remarks that reflect racism, prejudice and plain ignorance. Vermeulen has been training with Mashonaland Eagles in the hope that they would contract him for the coming season. We find Vermeulen's Facebook comment distasteful and unacceptable particularly for a senior sportsman who should have learnt from playing in Zimbabwe and abroad that there is no place for racism in sport more so on the field of play where one may have teammates and therefore colleagues of different races. This is why, as Zimbabwe Cricket, we pride ourselves in this diversity and seek to feed off it in our pursuit of excellence. For Vermeulen not to appreciate the humanity of another race is regrettable — to say the least — because at the time when he was virtually an international pariah after having also fallen foul of the law in England, a non-White leadership at ZC decided to accommodate him. For Vermeulen to set fire to the ZC Cricket Academy and still come back and be allowed to play not just for a franchise but also for Zimbabwe and then to go public with such toxic views, says a lot about the former Zimbabwe international. For example, if when he was practising with Eagles last week, he was among the "apes", he was among them as what? So instead of Vermeulen writing in his apology about "how our minds" work, he should tell us how his own mind works. Racism is abominable and there can be no defence for it. The best anyone who is uncomfortable with another race can do is to rehabilitate themselves so that they accept fellow human beings as equals and not "apes".
- The Herald, October 17, 2015
---
Zimbabwe's veteran President Robert Mugabe was booed and heckled by opposition lawmakers over the deteriorating economy as he gave his state of the nation address to parliament Tuesday. Movement for Democratic Change (MDC) lawmakers questioned his economic policies, jeering as the 91-year-old delivered a policy speech which lasted less than half an hour. He spoke as the UN confirmed earlier estimates that around 1.5 million Zimbabweans or 16 % of the country's population will face hunger later this year and need food aid. When Mugabe -- who has been in power since Zimbabwe's independence from Britain in 1980 -- outlined his government's plan to improve the economy, one lawmaker yelled at him to admit that "you can't do much about it". Mugabe presented a 10-point plan which included boosting agricultural growth, encouraging private sector investment and fighting graft. "What about job creation?" one opposition member shouted while another accused Mugabe's government of "corruption". Another parliamentarian shouted "if wishes were horses" while his other opposition legislator screamed "you have utterly failed". The economy of the southern African nation has been on a downward spiral for more than a decade with slow growth, low liquidity and high unemployment. Many companies have closed, downsized or relocated to neighbouring countries. The government has cut its growth forecasts for 2015 to 1.5 %, from 3.2 %, mainly due to slow growth in the agricultural sector. Zimbabwe's harvest of the staple corn has shrunk by half due to erratic rains and abnormally high temperatures. The country will need to import 700,000 tonnes of corn to feed those facing hunger in the coming months. Vice President Emmerson Mnangagwa has already appealed for cash from "development agencies and the private sector". The UN's World Food Programme on Monday said 16 % of the population "are projected to be food insecure at the peak of the 2015-16 lean season, the period following harvest when food is especially scarce". "This represents a 164 % increase in food insecurity compared to the previous season," said WFP in a note. Amidst the heckling, Mugabe -- not known for not brooking dissent -- continued unfazed and read his speech through to the end. His ZANU-PF lawmakers then burst into a song praising their leader while the opposition countered singing "ZANU-PF is rotten". It is not the first time Mugabe has been jeered in parliament. In August 2008, MDC deputies roundly booed the president during a speech to show they did not recognise his legitimacy following a flawed presidential vote held earlier that year.
- report sent by GML (who commented "and to think we fed Africa"), August 27, 2015
---
The UN has over the last decade taken a prominent role in raising money for humanitarian and development aid to Zimbabwe after the West withheld direct budget support in 2002 over policy differences with veteran President Robert Mugabe. Western donors like United States and European Union funnel financial aid through charities and the UN, leaving Zimbabwe to fund its budget from taxes because it does not qualify for international credit due to a foreign debt of $9 billion. Bishow Palajuli, the UN's resident coordinator in Zimbabwe said the global agency had raised $1.64 billion for its Zimbabwe United Nations Development Assistance Framework (ZUNDAF) which started in 2012 and ends this year and was now seeking to do the same for the next four year period. Parajuli however said donors were financially stretched, trying to cope with humanitarian crises around the world. Early this month Zimbabwe asked for financial support from the West for the first time in a decade at a meeting with Western diplomats and international lenders. The International Monetary Fund has predicted weaker growth in Zimbabwe after a drought hit farm output, while several companies are closing due to lack of credit, power shortages and competition from cheaper imports. Zimbabwe will this year import 700,000 tonnes of the staple maize following the drought and officials from foreign relief agencies say up to 1.8 million people - more than a tenth of the population - may require food aid this year.
- Reuters' report, May 29, 2015
---
It flew profitably through 23 years of United Nations-imposed sanctions. It carried on without a blip after Black nationalist guerillas shot down two of its Viscounts in the late 1970s, the last years of White-ruled Rhodesia. After independence in 1980, its name was changed from Air Rhodesia to Air Zimbabwe. It was comfortably in the black with 16 aircraft, and a reputation as a clever, durable little African airline. It has taken President Mugabe 31 years without war or economic sanctions to finally drive it into the ground. The last Air Zimbabwe domestic flight was three weeks ago. Late last year it cancelled international flights after a Boeing 737 at Johannesburg's Oliver Tambo Airport and a Boeing 767 at Gatwick were impounded for unpaid services. On Friday last week lawyers for the National Airways Workers' Union and the Air Transport Union filed for the airline to be placed under judicial management. Court papers said they had not been paid since January 2009 and were owed US$ 35 million. Air Zimbabwe executives who asked not to be named said the company owed a total of US$160 million. Among the many reluctant benefactors who bailed it out in emergencies is Nicholas van Hoogstraaten, the former London rack-renter who has recreated himself as one of Zimbabwe's most influential businessmen. "The demise of Air Zimbabwe is a disgraceful waste of a valuable asset, which is now beyond redemption," he said. The "disgrace" he refers to is the blundering mismanagement and greed Mugabe and his cronies have visited upon every enterprise they have touched since he came to power in 1980. From the outset, Mugabe used Air Zimbabwe as his personal air taxi. The abuse was legendary. Passengers were ordered off their flights when he turned up at 30 minutes notice with a crowd of hangers-on. Or if they managed to keep their seats, they would be flown to wildly out-of-the way destinations to drop off the president. On one trip, he circumnavigated the globe. Political appointments fill the senior executive positions, and relatives much of the rest. Air Zimbabwe has a staff of 1,400 where experts estimate 400 would be ample. Fares were kept unsustainably low, and charged in worthless Zimbabwe dollars until they were phased out in 2009. It has no board of directors. The company is in the hands of a coterie of executives who, staff say, pay themselves US$20,000 amonth and drive the latest Mercedes Benz models. "They are law unto themselves," said one. Early this month a long-unpaid pilot won a court order for the seizure of company property in lieu of his salary. The sheriff entered Air Zimbabwe headquarters and left with three of the limousines. "It's become the ZANU-PF carrier," said a senior technician. Each time the Mugabe "royal family" return from a trip abroad, a 10-tonne truck and several pick-ups can be seen to drive up to the aircraft's hold to be loaded with the Mugabe's goods. Last year, Grace, the president's wife, flew into a rage when her flight was late. Acting CEO Peter Chikumba presented her with US$10,000 "spending money" by way of an apology. Since the government took control of the fabulously wealthy Marange diamond fields in the east of country, cabin staff say, pilots are regularly given small sealed parcels by Mrs Mugabe's staff for personal delivery to Asian businessmen in the Far East. Just ahead of elections in 2008, an Air Zimbabwe plane flew tonnes of ZANU-PF t-shirts from Beijing. But as Air Zimbabwe (Pvt) Ltd crumbles, a new development is secretly unfolding. A plain white 150-seat Airbus A320 with French markings arrived at Harare airport 10 days ago and was quickly concealed in an Air Zimbabwe hangar. Company and transport ministry officials have been tight-lipped. The plane is on loan from Sonangol, a Chinese company with enormous interests ranging through oil, air transport and diamonds, Air Zimbabwe administrators say. A larger Airbus 340 is soon to follow. "It's a ministry of defence project," said one. "It can only be funded by diamonds. ZANU-PF will not be without their own airline."
- Report sent by B.O.N., June 18, 2014
---
Air Zimbabwe has been suspended from the International Air Transport Association (IATA) for failing to comply with global safety standards, a cabinet minister has said. Transport, Communications and Infrastructural Development Minister Nicholas Goche confirmed the development. He, however, said the national airline was given a grace period of up to November 31st to comply with the standards. He said the global aviation body recently wrote to Air Zimbabwe communicating the position. If it fails to meet the deadline, Air Zimbabwe will be banned from using international airports and air spaces of other countries forever. IATA is a global aviation body that works with airline members and the air transport industry to promote safe, reliable, secure and economical air travel for the benefit of travellers.
- Rhodesian Christian Group news update, December 2012
---
The bulk of imported maize being supplied to hungry Zimbabweans is coming from former White commercial farmers evicted during the 2000 chaotic land invasions and now farming in Zambia. Recipients of the government's grain loan scheme in Matabeleland were last week shocked to discover that the names on the stickers on the grain bags were of former White farmers. The Zimbabwe government has imported 300,000 tonnes of maize from Zambia to feed millions of its citizens who are facing starvation. Following the chaotic land seizures, most White commercial farmers, who were dispossessed of their farms fled to Zambia where they bought new farms. Since then Zimbabwe, which used to be southern Africa's bread basket, has been buying most of its maize grain staple from Zambia, to augment available stocks. "Last week I received two bags of maize grain under the grain loan scheme from the Grain Marketing Board (GMB) depot in Insiza. One of the bags had a green sticker inside written, 'supplied by Michel Handris', a former Karoi commercial farmer. The sticker had also the contact details of Handris, who is now farming in the southern parts of Zambia, " said Edmore Ndlovu. Villagers who spoke to Radio VOP, in Umguza, also confirmed receiving maize bags with stickers bearing names of former White commercial farmers. "We are now required to destroy all the Zambian bags and repackage the grain in our local bags," said a GMB source. He said that the fact that some former Zimbabwean farmers were supplying maize had angered some senior ZANU-PF officers and the Minister of Agriculture. Zimbabwe faces a one million tonne maize deficit due to drought, with nearly half of the national crop coming up for harvest this month failing due to poor rains. Agriculture Minister Joseph Made recently said nearly 45% of the maize crop that was planted last farming season was a complete write-off. The country needs at least 2, 2 million tonnes of maize to feed itself annually but Made said Harare [Salisbury] currently has only 400,000 tonnes of maize stocks, which must be complemented by imports to prevent hunger. Donor organisations say they are re-assessing their assistance to Zimbabwe to see how they can cope with the shortfall in both crop and funding. Last year the United Nations said it would raise nearly $200 million for aid efforts in Zimbabwe with half going to food security for more than 1.4 million people. But a funding shortfall affected the donor groups' efforts to assist.
---
A government minister in Zimbabwe says work has stopped on new reservoirs because workers have been scared off by mermaids, a report has said. According to orangenews.com, Minister of Water Resources Samuel Sipepa Nkomo reportedly told a parliamentary committee that terrified workers were refusing to return to the sites, near the towns of Gokwe and Mutare [Umtali]. He said the only way to solve the problem was to brew traditional beer and carry out rites to appease the spirits. "All the officers I have sent have vowed not to go back there," Zimbabwe's state-approved Herald newspaper quoted him as saying. The senior politician allegedly said mermaids were also present in other reservoirs around the country. The building of the reservoirs is long overdue, but is considered essential if Zimbabwe is to provide adequate water for its population and boost agricultural production. The belief in mermaids and other mythical creatures is widespread in the country, where many people combine a Christian faith with traditional beliefs.
- Independent On-Line, February 10, 2012
---
It flew profitably through 23 years of United Nations-imposed sanctions. It carried on without a blip after Black nationalist guerillas shot down two of its Viscounts in the late 1970s, the last years of White-ruled Rhodesia. In 1980, its name was changed from Air Rhodesia to Air Zimbabwe. It was comfortably in the black with 16 aircraft, and a reputation as a clever, durable little African airline. It has taken President Mugabe 31 years without war or economic sanctions to finally drive it into the ground. The last Air Zimbabwe domestic flight was three weeks ago. Late last year it cancelled international flights after a Boeing 737 at Johannesburg's Oliver Tambo Airport and a Boeing 767 at Gatwick were impounded for unpaid services. On Friday last week lawyers for the National Airways Workers' Union and the Air Transport Union filed for the airline to be placed under judicial management. Court papers said they had not been paid since January 2009 and were owed US$ 35 million. Air Zimbabwe executives who asked not to be named said the company owed a total of US$160 million. Among the many reluctant benefactors who bailed it out in emergencies is Nicholas van Hoogstraaten, the former London rack-renter who has recreated himself as one of Zimbabwe's most influential businessmen. "The demise of Air Zimbabwe is a disgraceful waste of a valuable asset, which is now beyond redemption," he said. The "disgrace" he refers to is the blundering mismanagement and greed Mugabe and his cronies have visited upon every enterprise they have touched since he came to power in 1980. From the outset, Mugabe used Air Zimbabwe as his personal air taxi. The abuse was legendary. Passengers were ordered off their flights when he turned up at 30 minutes notice with a crowd of hangers-on. Or if they managed to keep their seats, they would be flown to wildly out-of-the way destinations to drop off the president. On one trip, he circumnavigated the globe. Political appointments fill the senior executive positions, and relatives much of the rest. Air Zimbabwe has a staff of 1,400 where experts estimate 400 would be ample. Fares were kept unsustainably low, and charged in worthless Zimbabwe dollars until they were phased out in 2009. It has no board of directors. The company is in the hands of a coterie of executives who, staff say, pay themselves US$20,000 a month and drive the latest Mercedes Benz models. "They are a law unto themselves," said one. Early this month a long-unpaid pilot won a court order for the seizure of company property in lieu of his salary. The sheriff entered Air Zimbabwe headquarters and left with three of the limousines. "It's become the ZANU-PF carrier," said a senior technician. Each time the Mugabe "royal family" return from a trip abroad, a 10-tonne truck and several pick-ups can be seen to drive up to the aircraft's hold to be loaded with the Mugabe's goods. Last year, Grace, the president's wife, flew into a rage when her flight was late. Acting CEO Peter Chikumba presented her with US$10,000 "spending money" by way of an apology. Since the government took control of the fabulously wealthy Marange diamond fields in the east of country, cabin staff say, pilots are regularly given small sealed parcels by Mrs Mugabe's staff for personal delivery to Asian businessmen in the Far East. Just ahead of elections in 2008, an Air Zimbabwe plane flew tonnes of ZANU-PF T-shirts from Beijing. But as Air Zimbabwe (Pvt) Ltd crumbles, a new development is secretly unfolding. A plain white 150-seat Airbus A320 with French markings arrived at Harare airport 10 days ago and was quickly concealed in an Air Zimbabwe hangar. Company and transport ministry officials have been tight-lipped. The plane is on loan from Sonangol, a Chinese company with enormous interests ranging through oil, air transport and diamonds, Air Zimbabwe administrators say. A larger Airbus 340 is soon to follow. "It's a ministry of defence project," said one. "It can only be funded by diamonds. ZANU-PF will not be without their own airline."
- report by Jan Raath, January 31, 2012
---
| | | |
| --- | --- | --- |
| <![if !vml]><![endif]> | | On Sunday 13th November 2011 the Rhodesian Army Association held their annual Remembrance Day Service at the Field of Remembrance outside Westminster Abbey in London. As well as members of the Rhodesian Army Association members of the Rhodesian Air Force Association, the BSAP Regimental Association, the Rhodesian Internal Affairs Department and various individual Rhodesian regimental associations also took part in this most moving ceremony. The service was conducted by Pastor E.A.Lee (formerly Major Staff Corps HQ 3 Bde) and others participating in the service included Peter Phillips of the BSAP Regimental Association, Geoff Cooke of Rhodesians Worldwide, Lt.Col. D.P.P. Hobson, Major Alison Ruffell, Major E. Jackman and Lt.Col. M.L. Clewer. [Pictured left are the standard-bearers representing the Rhodesian Army Association, the Rhodesian African Rifles, the Rhodesian Air Force, Internal Affairs, the BSAP, the Rhodesia Regiment and the Rhodesian Light Infantry.] |
---
A Zimbabwean nurse registered with the Nursing and Midwifery Council in the United Kingdom is at the centre of a political storm after she and her husband were named in the seizure of a White owned farm in Chegutu. ZANU-PF militants like this are normally used to intimidate White farmers off their land. Irene Zhanda who is reported to have worked for a West London hospital for over 5 years and her husband Hudson Zhanda are behind an eviction notice to Beatrice commercial farmer Wayne Greaves and his 84 workers. The farmer was told to leave the property by the end of the week. Wayne Greaves and his staff are in the process of moving their belongings off Enondo B farm, after the eviction papers were served by a sheriff of the court last Friday. That same court sheriff warned that he would return this week and anyone left on the property would be arrested. An 'offer' letter for the farm was first served on Greaves in February. The offer letter was in two names, Hudson Zhanda and his wife Irene Zhanda. At the time Greaves went to see the Governor in Marondera and explained that he had already given up two farms 2002, leaving him with Enondo B, where he was allowed to continue farming. According to John Worsley-Worswick from Justice for Agriculture (JAG), this formal agreement was then set aside to allow the offer letter holder, Zhanda, to take over part of the land. But this has since changed with Zhanda dragging Greaves to court in order to take over the whole property. The case was heard and letters of support for Greaves were all submitted, including letters from the Governor, the Provincial Administrator, the War Veterans' Association Chairman and the chief lands officer. In the hearing, the Judge also suggested that a letter of support would also be needed from the Minister of Lands. A letter was then duly written by Minister Herbert Murerwa agreeing with the Governor's recommendation, which was subsequently submitted. But despite these letters of support, the Supreme Court has now backed Zhanda. JAG's Worsley-Worswick told SW Radio Africa that Supreme Court Justice Godfrey Chidyausiku last week signed the eviction notices for Greaves and his staff. "We are pretty horrified. This is the first time that a Judge has signed eviction notices individually for workers. Wayne's concerns are all about the welfare of his workers, because what do they do now?" Worsley-Worswick said. An appeal is now being voiced for support for Greaves, his 84 farm labourers and their extended families, a total of more than 450 people, set to lose everything.
- NehandaRadio.com report, October 4, 2011
---
Coming back to Zimbabwe after a month away is a huge shock to the system. Conditions in our third world country can probably best be described as surreal, and that's being polite! The strangeness of the experience starts before you even set foot in the country. Sitting in an international airport looking down the list of departures for destinations all over Africa, your eyes are drawn to the word 'cancelled' and your heart goes into your mouth. You look back across the line and are not surprised to see that it's Air Zimbabwe flights that are cancelled. Our national airline is still on its knees, a litany of excuses continuing to humiliate us with the word 'cancelled' on airport departure boards around the world. It could be any number of reasons today: unpaid fuel bills, unpaid staff, striking air crew. Arriving at Harare [Salisbury] International Airport, the contrast with the service you've just left behind in the first world is dramatic. Bored surly and unwelcoming Immigration Officials do not greet you or smile at you; they scowl as they thumb through your passport leaving you feeling as if you should turn round and go away again. In the ladies toilets only one of the door latches on the row of stalls closes; there is no soap in the dispenser and a huge plastic barrel of water stands in the corner, uncovered and exposed to a myriad of germs. Encountering two police roadblocks in the first ten kilometres from the airport is the surest sign that you are back in Zimbabwe. What do they want? What are they looking for at their incessant roadblocks? It takes just a few minutes to be reminded that these officials have perfected the art of making everyone feel as if they are a criminal. With pity you look at the crowd of commuter omnibuses that are inevitably pulled over at every roadblock. Their passengers tired, thirsty and frustrated as time and again the vehicles are stopped by the police and the drivers have to hand over money. Out of the long grass on the roadside four school children wearing bright purple uniforms and white shirts emerge. They look to be eight or nine year olds and on their backs they wear little school satchels but this is not their only load to bear. Each child carries a large bundle of sticks and branches balanced on their heads: firewood for their Mums to cook supper with. Wood for the fire which will be their buffer against the freezing winter nights and provide the flickering light by which they will do their homework. After iPods and iPads, trains, buses and aeroplanes, computers, laptops and broadband – this contrast is so dramatic that it leaves you wide-eyed and deeply shocked at just how far behind the world Zimbabwe has fallen. Arriving home the potholes and gullies on the suburban roads are deeper than ever and there is no water and no electricity in the house. An African Hoopoe stabs the browning grass for the last insects of the day, calling its mate again and again: "Whoop–whoop, whoop-whoop." The sun turns blood red as it sinks into the dust smothered horizon and for a moment the absurdity and abnormality is banished, because this is home.
- report by Cathy Buckle, July 3, 2011
---
| | |
| --- | --- |
| The Rhodesians Worldwide Kent Branch welcomed Jill Baker, the much loved and highly respected former RTV presenter, as their guest of honour at their monthly braai in June 2011. In her keynote speech Jill Baker (pictured right, standing) outlined some of her experiences and her ongoing commitment to alerting the outside world to what is really happening in Mugabe's Zimbabwe. | <![if !vml]><![endif]> |
---
Morgan Tsvangirai, Zimbabwe's Prime Minister, has warned that neither he nor President Robert Mugabe are now in control of the country, which is instead being run by a "dark and sinister" military junta. Mr Tsvangirai on Friday returned from a trip to urge neighbouring leaders to act to prevent

Zimbabwe

sliding back to the "dark days" of violence seen in the disputed 2008 elections which saw him form a coalition with his rival Mr Mugabe. On Saturday, he is due to address a
Movement for Democratic Change
rally in Harare [Salisbury], defying a police order that it be cancelled. Diplomatic sources in Harare [Salisbury] said they feared the rally, which will take place close to a meeting of Mr Mugabe's ZANU-PF supporters, could end in bloodshed if police intervene. There are also concerns that Zimbabwe's Joint Operations Command, made up of the heads of the police, armed forces and state security, could use the opportunity to arrest Mr Tsvangirai, who was last week accused of contempt of court for accusing the country's senior judges of political bias. Sources have told
The Daily Telegraph
that Mr Mugabe, 87, is becoming increasingly frail and defers decisions to his closest advisers – mostly members of the JOC.
- Daily Telegraph, March 18, 2011
---
Robert Mugabe's henchmen are preparing to arrest Morgan Tsvangirai, his coalition partner, for contempt of court after he accused the country's senior judges of doing the bidding of Mr Mugabe's ZANU-PF party. The arrest of Prime Minister Tsvangirai was discussed in Tuesday's cabinet meeting, government insiders told
The Daily Telegraph
. On Wednesday, Augustine Chihuri, the

Zimbabwean

chief of police, is understood to have visited the offices of the state-controlled
Zimbabwe Broadcasting Corporation
to collect a recording of Mr Tsvangirai's allegedly contemptuous comments. Mr Chihuri is a member of the feared Joint Operational Command, the military junta which remained under Mr Mugabe's command when the coalition deal was struck in 2009. He is believed to be increasingly taking power as the 87-year-old dictator's health declines. In the past month, more than 100 activists and politicians of Mr Tsvangirai's
Movement for Democratic Change
have been arrested, including Elton Mangoma, the Energy Minister. Mr Mangoma was detained over an allegedly fraudulent fuel deal struck with a South African firm last January, when Zimbabwe was facing a fuel shortage.
- Daily Telegraph, March 17, 2011
---
Robert Mugabe's health is failing, leaving Zimbabwe's government paralysed, according to sources in the coalition. Mugabe, 87 today, underwent a prostate operation in Malaysia last month, sources said. His spokesman denied the claim but said the president returned from Singapore yesterday following a separate check-up. Cabinet has sat for just two hours in the past two months, officials say, but his birthday is expected to be lavish. Last year's celebration cost £185,000.
- Daily Telegraph, February 21, 2011
People in Zimbabwe are becoming angry about the lack of small denominations in circulation and tempers are fraying as a result: A policeman recently shot dead a taxi assistant for failing to give him the correct change. After the formation of a coalition government in February 2008, the hyperinflation-afflicted economy was dollarized - with the US Dollar and South African Rand most widely used, but the Botswana pula, the Zambian kwacha and the Mozambican metical also in common use. To avoid disputes, taxis now give out travel vouchers when they run short of change - and the problem is not just in the transport sector. Sipho Mpofu, a public sector employee, went grocery shopping last week and was given a brown voucher instead of change. "When I asked them what it was for, they told me that they could not provide me with change and the voucher worth five rand would allow me to use their toilets for free. I threw away the offending piece of paper because I knew I was being ripped off." The lack of change angers many consumers, who are now trying to make purchases in round numbers. Shops use items such as tomatoes, matches, eggs, potatoes, candles, bananas, sweets, pens, pencils or vouchers in lieu of change. Mpofu said the use of "unwanted" grocery items was a "huge inconvenience". The lack of change angers many consumers, who are now trying to make purchases in round numbers "Right now I have a huge pile of matches, candles and sweets which I have no use for. In fact, they pose a threat should they be set alight accidentally." He said he had to hide the sweets from his children. Financial journalist Paul Nyakazeya said consumers were effectively being forced to buy items they did not want. "At the end of the day, when calculations are made, it may be discovered that the goods consumers end up taking as change... make up a substantial percentage of their monthly groceries... The best way out of this quagmire for the consumers would be the widespread introduction of an electronic system to purchase commodities." But, with frequent power cuts, especially in rural areas, Nyakazeya acknowledged it would be very difficult to make such a system work. Economist David Mupamhadzi told IRIN the authorities urgently needed to introduce smaller currency denominations, especially for the South African Rand: Many service providers round up the bill, making goods and services more expensive, eroding disposable incomes and boosting inflation, he said.
- AfricanCrisis, January 6, 2011
---
Former Chegutu farmer Ben Freeth was presented with a prestigious royal award in London on Wednesday, in recognition of his fight for justice and peace in Zimbabwe. Freeth was named as one of 44 recipients of a Member of the Order of the British Empire (MBE) as part of the Queen's birthday celebrations in June. An MBE is a prestigious international honour and is a tangible recognition of Freeth's efforts to combat the injustices of Robert Mugabe's land-grab campaign. On Wednesday, Freeth and other recipients were presented to the Queen, who officially bestowed the honour on them. Freeth told SW Radio Africa about the experience on Wednesday and agreed it was "surreal." He said the MBE award is a "great credit to all the people that have been fighting so hard for a better Zimbabwe." He called the award an honour that gives encouragement to the ongoing fight against illegal land seizures, a campaign that has left millions of people destitute. Over the last decade of Mugabe's land grab campaign, an estimated two million farm workers and their families have lost their jobs and homes, and the destruction of the agricultural sector means the country is almost entirely dependent on food aid. "This is really encouraging for all of the farming community and their efforts during this past turbulent and traumatic decade," Freeth said. "It is also the start of more things to come in what we can do to serve Zimbabwe." Freeth added that he hopes the award will help the ongoing fight for change in Zimbabwe: "We hope it will create a new, positive platform from which our country can move forward. Hopefully we can get the people who have the power to help." Freeth and his father-in-law Mike Campbell, who co-own Mount Carmel farm in Chegutu, made history in 2008 when they took Mugabe's government to court over the land grab. The protracted legal battle within the human rights Tribunal of the Southern African Development Community (SADC) led to the pair and Campbell's wife Angela, being abducted, beaten and tortured. But despite their serious injuries, they continued with their campaign to seek a legal precedent to protect Zimbabwean commercial farmers from land invasion. The SADC Tribunal eventually ruled in the farmers' favour in late 2008, declaring the land grab unlawful. Mugabe's government was ordered to protect the farmers and their right to farm peacefully on their properties, an order that has been completely ignored. Freeth and Campbell have both been forced off their property after their homes were burnt down last year by land invaders. Land invasions and the persecution of farmers in the courts have also continued to intensify across the country. The blatant disregard of the SADC Tribunal meanwhile has not resulted in any action from SADC, who instead decided earlier this year to 'review' the legal body. SADC leaders resolved at their annual summit to 'review the mandate of the Tribunal', which many critics have said demonstrates open support for Mugabe. The decision means that no farm cases still pending in the court, will be dealt with. This essentially leaves commercial farmers with no legal protection against ongoing illegal land seizures.
- AfricanCrisis, October 14, 2010
---
A recent visit by TAU SA to the Commercial Farmers Union (CFU) of Zimbabwe annual congress revealed that Zimbabwe's small coterie of commercial farmers - some of whom are farming on the fringes of their properties - are unwilling to leave the land they love. (Many of course cannot, and others won't come to South Africa because they see the same fate awaiting them as in Zimbabwe).
The catastrophe of Zimbabwe president Robert Mugabe's land "reform" program has been broadcast to the world, but the real tragedy is watching your farm being destroyed by squatters who have either invaded it or were dumped on the farm during the takeover period. Calling the police to object is an exercise in futility.
Most of the 180 CFU congress attendees have been in jail, some of them up to fourteen times. Trying to take out your furniture from your occupied house is enough to draw the wrath of the regime – it is then that the police arrive with alacrity to cart one off to the station to be charged and convicted. Despite this, many of these farmers are convinced that their country will get back on its feet once the poison of the regime's presence is removed.
TAU SA members saw the pitiful remnants of what used to be – macadamia trees at half their usual height, choked by overgrown grass and weeds, farms where maize had grown as far as they eye could see, now returned to savannah. The quality of the soil is outstanding, yet the excuse for non-productivity is drought. (There's always an excuse in Africa, but for the record from 1991 to 2000, the average rainfall was 611 mm and from 2001 to 2010, it was 671 mm. From 1971 to 2010, the average rainfall never fell below 600 mm)
TAU SA saw no or little production, no tractors working – except as transport along the roads! Somebody donated a huge harvester that in South Africa would be used for thousands of hectares. In Zimbabwe, it was being used for a ten-hectare plot! The full circle is almost complete in some areas – the return to mud huts, subsistence agriculture, dusty unpaved roads, no transport, and goats and skinny cattle meandering along. Railroads don't function – only trains between the cities run. Electricity supply is a problem, and the importation of food is now a way of life.
The country's agriculture is returning to the subsistence, live-for-the-present mentality that existed before the settlers arrived.
Zimbabwe dollars are used no more – only South African rands and US dollars are legal daily tender, some notes so dirty as to be illegible. People have taken to washing US dollars and pegging them out to dry. Check points dot all the roads – it's easy money. What did you bring for me? asks the policeman as he stops your vehicle. Then there are the toll roads, another attempt to siphon something from the populace.
Democratic Republic of Congo, here we come! Another beautiful, rich and superbly endowed African country bites the dust, while its leader thumbs his nose at the rest of the world, shops in Hong Kong and ignores his people's suffering – all in the name of democracy. Where are the United Nations resolutions condemning yet another African tyrant? Where is the International Criminal Court?
Let us look at what the US, the UK and the UN replaced in the name of one man, one vote.
The Zimbabwe government's campaign to obliterate commercial agriculture (certainly with a racist motive!), under the guise of agrarian reform, but in reality in the interest of retaining power through illegal and violent means, has been incredibly effective. Watched by the so-called world community, Zimbabwe's Mugabe set out to make life so intolerable for whites that they would leave. And leave they did.
But they left behind a legacy no one can obliterate, not even those who denigrated the old Rhodesia's farmers as oppressors and exploiters of the masses.
We quote hereunder from a 2008 quarterly issue of the Rhodesians Worldwide magazine:
"In the later nineteenth century, the first white hunters, traders and missionaries who came to the region which used to be known as Rhodesia and is now Zimbabwe, found a land devoid of infrastructure. The wheel was not yet in use. With a population of about a quarter of a million at the time, most of the land was not occupied. Commercial farming started in the 1890s on what was, for the most part, virgin land. There were no roads, no railways, no electricity, no telephones, no fences, boreholes, pumps, windmills, dams, irrigation schemes, cattle dips, barns or any other farm buildings.
These first farmers had to discover how to contend with predators that killed their livestock and other animals that consumed their crops; and how to control diseases, pests and parasites that were foreign to them. Knowledge and experience built up over generations in the developed world had limited application in the new Rhodesia, since the local climate, soil and vegetation were vastly different.
From this starting point, fraught with difficulties, agriculture developed faster than it had anywhere else in the world. Soon the country became self-sufficient in most agricultural products. In many cases yields per hectare and quality equaled or bettered those in the developed world.
The United Nations Food and Agriculture Year Book of 1975 ranked the then Rhodesia second in the world in terms of yields of maize, wheat, soya beans and groundnuts, and third for cotton. In the combined ranking for all these crops, Rhodesia ranked first in the world.
Some of these rankings were in fact reached long before 1975. Rhodesia's Virginia tobacco was rated the best in the world in yield and quality, while maize entries in world championships were constantly graded in the first three places.
The world's largest single citrus producer was developed early in the country's history. The highest quality breeding stock of numerous breeds of cattle, sheep, goats, pigs and poultry were imported. At the same time, the indigenous cattle were developed through breeding and selection to highly productive and respected breeds. Wildlife was incorporated into farming systems to develop a highly successful eco-tourism industry and endangered species found their most secure havens on farm conservancies.
Zimbabwe was the world's second largest exporter of flue-cured tobacco. Agriculture contributed more to the Gross Domestic Product than any other industry. It was the largest employer of labour, providing employment for about a third of the total labour force. Zimbabwe indeed was the bread basket of Africa."
The report continues with details of government agricultural departments and technical colleges set up, of veterinary services, of Research and Development of specialist products including tobacco, of improved crop varieties, of livestock nutrition and management, of wild life conservation, of water management, of sustainable production through drought years as well as through high rainfall periods. (Rex Tattersfield, a former plant breeder in Zimbabwe, was one of only five men in the world awarded a gold medal for soybean research and development.)
The farmers contributed to the leadership, fabric and welfare of society out of all proportion to their numbers. Each farm was to a certain extent an outpost of civilization, where schools were established, clinics and dispensaries were built, and where ambulance services were almost always available.
No more. All of this has been replaced by poverty, terror, wholesale theft and wastelands where once crops grew. Yet this state of affairs seems preferable to the world than white commercial farming control. The yardstick by which countries are now judged is not whether people go hungry or are crushed by grinding poverty, but by whether there is a democracy - of whatever sort - where tyrants stay in power for decades, and where millions flee as refugees, never to return. Indeed, the West has much to answer for, but they will not be held responsible for present-day Zimbabwe. They have moved on and millions are left to pick up the pieces.
- International Bulletin from TAU South Africa, August 23, 2010
---
A new spate of arrests in the name of Robert Mugabe's land 'reform' programme has rocked the country's remaining commercial farming community, with at least four arrests since last Tuesday. Most recently, last Friday police went to James Taylor's Cedor Park Farm in Nyamandlovu, and arrested him. His son Matthew was later also arrested when he went to Nyamandlovu police station to assist his father. Both were kept behind bars over the weekend and were only released on Monday, despite James being in a fragile medical condition due to a recent stroke and diabetes. According to Chris Jarrett, the Chairman of the Southern African Commercial Farmers Alliance (SAFCA), the Taylors have since been barred from entering their property this week. Taylor gave up his Shirville Farm for resettlement several years ago, and in return was allowed to stay on at Cedor Park. Nevertheless the farm was invaded some months ago by a Mr. Chiguru who claimed he had an offer letter which 'authorised' him to occupy Shirville Farm next door - and Cedor Park. The Taylors immediately sought the intervention of the High Court, who ordered that Chiguru vacate the property. But on Sunday it was clear that Chiguru was being given some influential help, as police took Taylor's son out of the cells, transported him to Cedor Park and ordered him to clear the house, for Chiguru. "This whole situation makes a mockery of the legal system in Zimbabwe," SACFA's Jarrett said. "There is no logic to it at all." Meanwhile, last Tuesday six truckloads of armed police arrived at Goff and Shirley Carbutt's Oscardale Farm in the Inyathi district of Matabeleland North. They surrounded the homestead and proceeded to arrest Goff for being in illegal occupation of 'state land'. This is despite him also giving up a large portion of his property for 'resettlement' under the land reform programme. As in the Taylor case, the Carbutt's had been allowed to remain on a portion of the property, which was deemed as not being 'state land'. But regardless of legal papers allowing them to remain on the farm, the family was evicted from their home at gunpoint on Tuesday. Goff, who has recently had a kidney transplant, was taken to the police station in Inyathi where he had to sleep on the concrete floor of the police cells for two nights. The convoy of police then proceeded to the vacant home of Ed Grenfell-Dexter of Riverside and Riverbank farms. There they convinced his watchman to lure Dexter out from Bulawayo, where he now lives. When he arrived he was arrested and was also detained in Inyathi police cells for remaining on 'state land', despite not living on the property anymore. The police then also went to Mike Huckle's Felton farm and broke into the house where Huckle's staff lives. They gathered all the staff together and told them they had one hour to vacate the farm. Huckle is a South African resident and is meant to be protected by a recently ratified bilateral investment protection agreement. That agreement has proved fruitless, as a number of South African farmers in Zimbabwe have faced eviction and harassment in recent months.
- AfricanCrisis, June 1, 2010
---
Here's a measure of how President Robert Mugabe destroying this once lush nation of Zimbabwe. In a week of surreptitious reporting here (committing journalism can be a criminal offense in Zimbabwe), ordinary people said time and again that life had been better under the old, racist, White regime [sic] of what was then called Rhodesia. "When the country changed from Rhodesia to Zimbabwe, we were very excited," one man, Kizita, told me in a village of mud-walled huts near this town in western Zimbabwe. "But we didn't realize the ones we chased away were better and the ones we put in power would oppress us. It would have been better if Whites had continued to rule because the money would have continued to come," added a neighbour, a 58-year-old farmer named Isaac. "It was better under Rhodesia. Then we could get jobs. Things were cheaper in stores. Now we have no money, no food." Over and over, I cringed as I heard Africans wax nostalgic about a nasty, oppressive regime run by a tiny White elite. Black Zimbabweans responded that at least that regime was more competent than today's nasty, oppressive regime run by the tiny Black elite that surrounds Mr. Mugabe. A [New York] Times colleague, Barry Bearak, was jailed here in 2008 for reporting, so I used a fresh passport to enter the country as a tourist. Partly for my own safety, I avoided interviewing people with ties to the government, so I can't be sure that my glimpse of the public mood was representative. People I talked to were terrified for their personal safety if quoted - much more scared than in the past. That's why I'm being vague about locations and agreed to omit full names. But what is clear is that Zimbabwe has come very far downhill over the last few decades (although it has risen a bit since its trough two years ago). An impressive health and education system is in tatters, and life expectancy has tumbled from about 60 years in 1990 to somewhere between 36 and 44, depending on which statistics you believe. Western countries have made the mistake of focusing their denunciations on the seizures of White farms by Mugabe's cronies. That's tribalism by Whites; by far the greatest suffering has been endured by Zimbabwe's Blacks. In Kizita's village, for example, I met a 29-year-old woman, seven months pregnant, who had malaria. She and her husband had walked more than four miles to the nearest clinic, where she tested positive for malaria. But the clinic refused to give her some life-saving anti-malaria medicine unless she paid $2 - and she had no money at all in her house. So, dizzy and feverish, she stumbled home for another four miles, empty-handed. As it happened, the clinic that turned her down was one that I had already visited. Nurses there had complained that they were desperately short of bandages, antibiotics and beds. They said that to survive, they impose fees for seeing patients, for family planning, for safe childbirth - and the upshot is that impoverished villagers die because they can't pay. I also spent time at an elementary school where the number of students had dropped sharply because so few parents today can afford $36 in annual school fees. "We don't have desks. We don't have chairs. We don't have books," explained the principal, who was terrified of being named. The school also lacks electricity and water, and the first grade doesn't have a classroom and meets under a tree. This particular school had been founded by Rhodesians more than 70 years ago, and the principal mused that it must have served Black pupils far better in Rhodesian days than today. At another school 100 miles away, the deputy headmaster lamented that students can't even afford pens. "One child has to finish his work, and then he lends his pen to another child," he explained.
- article by Nicholas D. Kristoff, New York Times, April 9, 2010
---
White Zimbabwean [Rhodesian] farmers whose land was grabbed by Robert Mugabe plan to turn the tables by seizing Zimbabwean-owned property in South Africa. Lawyers for dispossessed farmers believe that on Monday they will be able to start using the law to seize houses in Cape Town which are owned by the Zimbabwean government. Their action, which follows a landmark legal ruling, promises to humiliate Mugabe and embarrass South Africa's president Jacob Zuma, who was on a state visit to Britain last week. The battle for justice fought by one of the White farmers, Mike Campbell, aged 77, was featured in the documentary film Mugabe and the White African. It was shown in British cinemas this year to great acclaim. The film tells how he fought stubbornly to bring a legal case in 2008 against Mugabe's government at the Southern African Development Community tribunal, based in the Namibian [South-West African] capital Windhoek. Mr Campbell won a victory when the court ruled that Mugabe's farm takeovers were racist in nature and therefore illegal. At the North Gauteng [PWV area] High Court in the South African capital Pretoria last month, the farmers successfully applied for the Namibian [South-West African] judgement to be enforced in South Africa. Lawyers acting for the Mr Campbell and a group of other farmers believe after that ruling they can seize Zimbabwean government-owned property, to recover legal costs from the South African case. Mr Campbell, who was severely beaten by land invaders in 2008, was too frail to comment yesterday. But his son-in-law Ben Freeth, 41, said: "This is not about revenge. This is about the long arm of the law. We hope to expand our actions further and investigate whether we can, in time, sue individuals who were responsible for what has been going on." Late last year Mr Freeth watched helplessly as thugs burned down his farmhouse in Zimbabwe. Their representatives have identified at least 11 properties which are owned by the government of Zimbabwe, including houses in Cape Town worth hundreds of thousands of pounds. Unlike properties in Pretoria which are connected to the embassy, the Cape Town properties are thought not to be protected by diplomatic immunity. The lawyers say it will be a groundbreaking development, as they are not aware of any precedent for government-owned properties being seized in pursuit of a civil judgement. The timing is awkward for Zuma. This week the South African president called for Western sanctions to be lifted against Mugabe and his cronies, during a state visit to Britain. The EU recently renewed sanctions for another year, although Western officials point out the sanctions hit only specific regime members rather than the Zimbabwean people as a whole.
- AfricanCrisis, March 7, 2010
---
MDC-T has suspended Bulawayo South legislator Mr Eddie Cross over allegations of indiscipline as internecine strife deepens in the party. Mr Cross is party leader Mr Morgan Tsvangirai's economic advisor and is a member of MDC-T's national executive. It is understood that the leadership is still trying to come up with a "soft" way of officially communicating the suspension because they fear a backlash from the White Rhodesian donor element that has traditionally backed Mr Cross' position in the party hierarchy. They also fear that, if not properly managed, the affair could open a can of worms that will reveal the extent of divisions within MDC-T. Reliable sources say the decision to suspend Mr Cross was taken at a meeting of the party's Standing Committee at Wild Geese Lodge in Harare last Friday. "Cross was suspended last week when the party held a meeting at Wild Geese Lodge. He is accused of disseminating information on the Internet and in the Press without clearance from the party and some of the statements were against party policies," one of the sources said. Among the statements the party is using to nail Mr Cross was his declaration last year that the land reform programme was unacceptable and reversible. In the article - which appeared on many online publications - Mr Cross said MDC-T's national executive had resolved that the land reform programme was unacceptable and would be reviewed. His remarks went against Article V of the Global Political Agreement, which upholds the irreversibility of the land reform programme. Another source said the suspension was part of an attempt to "purge the Rhodesian element calling the shots in the Prime Minister's Office". The source said Mr Cross had "rubbed raw nerves when he wrote an article in which he essentially said he wanted to see the inclusive Government crash and burn". The source said the statements gave foundation to those who said MDC-T were "puppets". "The progressive elements in our party are trying to shake off the Rhodesian element that has permeated the ranks. They are, however, yet to communicate the decision (suspension) to Cross as it will have serious repercussions with Rhodesian elements in South Africa and Australia," said the source. A third source said MDC-T was in the process of notifying donors on Mr Cross' suspension. "They took the decision but they are afraid to implement it. Cross is connected. They have not notified him officially but he is already aware of it," the source said.Yesterday, Mr Cross would neither confirm nor deny his suspension. "I do not know. I have not heard about it," he said. Contacted for comment, MDC-T deputy president Ms Thokozani Khupe asked: "Who has told you that?" She went on to claim: "It is not true. We have not yet had any standing committee or national executive meeting." When it was pointed out that the national executive did, in fact, meet at Wild Geese last week she backtracked and said: "That issue (Cross' suspension) was never discussed." This development comes as the party is investigating three senior officials - Energy Minister Elias Mudzuri, Mines Deputy Minister Murisi Zwizwai and Home Affairs co-Minister Giles Mutsekwa. The three are accused of corruption.
- AfricanCrisis, January 27, 2010
---
A White Zimbabwean farming family, who were forced out off their land, have had a first taste of revenge against Robert Mugabe's regime after a documentary on their plight emerged as an Oscar contender. Mugabe and the White African opens in London this week after being named best documentary at the British Independent Film Awards in December. The movie, directed by Andrew Thompson and Lucy Bailey, is being likened to non-fiction films that achieved global success, such as Super Size Me, Fahrenheit 9/11 and Touching the Void. It tells how Mike Campbell, his wife Angela, daughter Laura, son- in-law Ben Freeth and their black Zimbabwean workers battled to keep hold of Mount Carmel, the mango farm 70 miles south-west of Harare [Salisbury] where his family had lived for 30 years, in the face of beatings by militia gangs loyal to Mr Mugabe. The family lost a long battle to hold on to the farm last year despite winning an unprecedented court case against the Zimbabwean government. The Campbells and Freeths were burned out of their homes in August and Mount Carmel Farm was occupied by Nathan Shamuyarira, an octogenarian former cabinet minister and President Mugabe's offical biographer. Mr Freeth, his wife and their three children now live in a friend's house about 10 miles away in the town of Chegutu while Mr and Mrs Campbell live in the capital Harare [Salisbury]. Months earlier Mr Campbell, 76, was subjected to a horrenous beating after he petitioned a tribunal of the Southern African Development Community (SADC) rule against Mr Mugabe's efforts to seize white owned farms. After a nine-hour ordeal at a militia camp, Mr Campbell was so badly injured that he could not attend the hearing in Namibia; Mr Freeth, whose skull was fractured, managed to be present in a wheelchair with his head bandaged. "We knew there would be consequences, taking on Mugabe," Mr Freeth said. "He's a dictator, he doesn't brook any opposition or anyone trying to bring him to book in any way. But we felt it was very, very important to ensure the world really knew what was going on in this country, so it had a chance to put an end to the suffering." Mr Mugabe once declared: "The White man is not indigenous to Africa. Africa is for Africans. Zimbabwe is for Zimbabweans." But the tribunal's ruling in Mr Campbell's favour was an unprecedented reverse for this doctrine - effectively determining that Mr Campbell and others like him had the same rights as Zimbabwe's majority Black African population. However in February last year, President Mugabe declared that he would ignore the SADC ruling and the forcible seizures would continue. Mike Campbell, 76, hopes it will force the international spotlight back on the campaign of violent, state-sponsored farm evictions which has continued under Mr Mugabe even though he was forced to form a new power-sharing government.
- AfricanCrisis, January 4, 2010
---
President Robert Mugabe on Friday called Prime Minister Morgan Tsvangirai's choice for a ministerial post an "offspring of a settler" who was not Zimbabwean, a remark which is likely to further strain the country's fragile coalition government. Mugabe was referring to Roy Bennett, a White commercial farmer who was driven off his land by Mugabe's controversial land reform targeting Whites. Mugabe has refused to appoint Bennett as deputy agriculture minister in the coalition government with Tsvangirai's Movement for Democratic Change (MDC), saying he must first be cleared of terrorism charges he is facing. Addressing a congress of his ZANU-PF in Harare [Salisbury], the president attacked the MDC as a puppet of the West, saying they asked for sanctions to be imposed on Zimbabwe. "To the MDC I say: Open your eyes. This is your country and not for Whites. Not the Bennetts. They are settlers, even if they were born here they are offspring of settlers," he said. The ZANU-PF congress, which ends on Saturday, has already nominated Mugabe as its presidential candidate in the country's next election, for which no date has been set. Mugabe and Tsvangirai formed a power sharing government in February, following a disputed presidential election run-off that the international community refused to recognise. Tsvangirai had trounced Mugabe in the first round. In his speech on Friday, Mugabe admitted for the first time he lost an election. He attributed the loss due to the internal squabbles of his party. He repeated his calls for the West to remove the sanctions imposed on him and some ZANU-PF senior members in 2002 following a spate of human rights abuses and allegations of a rigged election. Mugabe said the sanctions were unjustified and meant to punish him for his controversial land reform programme. "If you have a rich country, well naturally-resourced whether mineral, agricultural, or otherwise, they envy these resources, they find ways of penetrating your system," said Mugabe. He claimed that Britain formed the MDC to change revolutionary trends in Zimbabwe. "That is how the MDC was formed. They (Great Britain) did not hide this. They were blatant." Bennett, 52, is on trial for allegedly plotting to overthrow Mugabe's government in 2006. Mugabe's opponents have often been charged with plotting insurgency, but none of the charges ever stuck.
- News24, December 12, 2009
---
The treasurer of Zimbabwe's former opposition party went on trial on terrorism charges yesterday in a case that could decide the future of the fragile "unity" government. Roy Bennett denies plotting to overthrow Robert Mugabe. His party, the Movement for Democratic Change, says that the accusations are politically motivated. The MDC and Mugabe's ZANU-PF formed a unity government earlier this year, but they co-exist uneasily. The MDC has only just returned to joint meetings with ZANU-PF, having suspended co-operation last month over Mugabe's refusal to implement key provisions of the power-sharing agreement. Its complaints include malicious prosecution of the party's activists, and if Mr. Bennett is convicted, let alone condemned to death, the maximum possible penalty, it is unlikely that the coalition will survive. Mr. Bennett was nominated as Deputy Agriculture Minister by the MDC, but was arrested before he could be sworn in. His lawyers have argued that Michael Hitschmann, the main witness against him, was tortured while in custody. He was convicted of illegal weapons possession in 2007, but did not implicate Mr. Bennett at his own trial. Johannes Tomana, the country's attorney general whose unilateral appointment by Mugabe is one of the MDC's key complaints, is personally leading Mr. Bennett's prosecution. Many senior figures in Mugabe's party genuinely believe their propaganda that the MDC is a tool of the West, bent on re-colonising Zimbabwe by force of arms if needs be.
- Daily Telegraph, November 10, 2009
---
Zimbabwe has lost about 200 rhinoceroses - a quarter of its total population - to rampant poaching over the last three years as security and the economy deteriorated, state media reported on Tuesday. The southern African country has been badly damaged by an economic crisis, which critics blame on Mugabe's seizure of White-owned farms, including wildlife farms, to resettle landless Blacks. The director of the National Parks and Wildlife Authority, Morris Mutsambiwa, told a parliamentary committee that 86 poachers linked to international smuggling syndicates had been arrested this year alone. "We have lost close to 200 rhinos in the last two to three years," Mutsambiwa was quoted saying by the Herald newspaper. "From the intelligence we are gathering, we strongly believe that there are syndicates which operate in the region, involving locals." Estimates put Zimbabwe's black and white rhino population at about 500 and 300, respectively. Mutsambiwa said poachers were mainly targeting the low-lying south-eastern part of Zimbabwe and the Zambezi valley to the north. Asia seemed to be the main destination for the illicit rhino horns. Mutsambiwa said the wildlife authority was unable to provide adequate security, hence the rise in poaching cases.
- AfricanCrisis, November 3, 2009
---
As expected, given the illusionary sham of the so-called 'deal' between the ruling ZANU-PF regime and the opposition MDC, Zimbabwe President Robert Mugabe's office has ridiculed the boycott of cabinet meetings announced by his 'partner' in the so-called unity government, Prime Minister Morgan Tsvangirai. Two days after Tsvangirai's announcement, a spokesperson for the ZANU-PF president said in state media that government will conduct business 'with or without the prime minister's party'. "The MDC-T has disengaged from nothing. It's sound and fury signifying nothing. The MDC-T president knows that. It's a poor protest," George Charamba told the Sunday Mail, referring to Tsvangirai's Movement for Democratic Change.The 85-year-old dictator has so far not even bothered to reply personally. "As for this needless excitement from the MDC-T, I suppose the president will find time when the right time comes," Charamba said, with Mugabe having been busy selecting students to study abroad and with Zimbabwe's football team. Many independent observers have long pointed out that the so-called deal between ZANU-PF and the MDC has been a sham, forced on Tsvangirai by powers embarrassed by the blatant disregard of election results by Mugabe, the man they put in power in 1980 to get rid of the White Rhodesian government. The 'unity rule' has enabled Mugabe to re-gain some international acceptance and ease the return to stability, getting some money from international donors - though governments like the US still refuse to officially lift all sanctions. Having bent over backwards to try and make it work, Tsvangirai has now announced a boycott of cabinet meetings, following repeated provocations and harassment of his party's leadership and members. The straw that broke the camel's back seems to have been the renewed detention of one of his top aides, Roy Bennett, on terrorism charges this week in a move that the leader said showed the "fiction of the credibility and integrity" of the unity government. The long-suffering White former coffee farmer, whose land was expropriated under Mugabe's land grab policies, was later released on bail and a Mutare [Umtali] court is set on Monday to decide the date of his postponed trial. The MDC has said it is disengaging only from co-operation with Mugabe's party and not quitting the government - though it is unclear how, since the two parties share power through an internationally mediated unity pact.
- Southern Cross Africa News, October 19, 2009
---
Marauding gangs of armed robbers are on the loose in Harare [Salisbury] and are pouncing on unsuspecting motorists and travelers, stealing vehicles, cash and other valuables. A Harare man was stripped naked yesterday morning and robbed of a Toyota Hiace, valuables and US$170 cash by five armed robbers along Willowvale Road. In separate incidents the same day, nine people lost over US$700 cash, cellphones [mobile 'phones] and other valuables to five robbers driving a Mazda Eagle. The first incident occurred at around 3:30am near a block of flats in Highfield along Willowvale Road. Harare [Salisbury] provincial police spokesperson Inspector James Sabau said one of the robbers pretended as if their car, a blue Datsun 120Y, had broken down. He waved down the commuter omnibus and the unsuspecting driver stopped with the intention of offering assistance. He went over to the vehicle and found four other men sitting inside. The gang reportedly asked for tools to fix their vehicle and as the kombi driver was walking towards his commuter omnibus, which had no registration numbers, he was hit with an iron bar. They assaulted him all over the body before stealing US$170 cash, LG cellphones [mobile 'phones], clothes and a leather jacket. One of the robbers went behind the wheel of the commuter omnibus and sped off. Insp Sabau said in another incident over the weekend, three people were offered a lift by robbers at the intersection of First Street and Robert Mugabe Road at around 11:30pm on Saturday. Near Cresta Lodge, the robbers, who claimed they were going to Mutare [Umtali], stopped the vehicle and asked for fares on the pretext that they wanted to buy more fuel. While collecting the money, it is reported that they demanded cash and personal property from the complainants. They collected US$473, two cellphones [mobile 'phones], a pair of shoes and a satchel. The gang dumped the victims and drove off. A report was made to the police. Insp Sabau said the same gang had at midnight last Friday robbed six people of US$250 cash, cellphones [mobile 'phones] and various goods along Seke Road. He said they offered the victims a lift to Chitungwiza along Julius Nyerere Way. On the way, the gang -- one of them armed with an iron bar -- ordered all the passengers to surrender all their valuables. The complainants surrendered US$250, a G-Tide, Samsung and Nokia N93 cellphones [mobile 'phones], shoes and three handbags. They were driven along a dirt road where they were dumped by the gang before it headed back towards Seke Road.
- AfricanCrisis, October 11, 2009
---
Zimbabwe could start using the Rand as its currency this year. The country's finance minister, Tendai Biti, said his ministry was exploring three options and a decision would be made by the end of the year. One of the options is to join the rand monetary union. We will also consider continuing with the [current] regime of multiple currencies or bring back the Zimbabwean dollar and re-denominate it either with the rand or the US Dollar, he said. Economist Dawie Roodt said South Africans should not be concerned if Zimbabwe adopted the Rand. I'm very much in favour of such a move. People assume that the Rand could go the same way as the Zimbabwean Dollar, but that simply won't be the case. Biti's comments come after ex-President Kgalema Motlanthe suggested in February that it would be a practical move for Zimbabwe as part of their economic recovery plan under its coalition government. The idea was hailed at the time by economists. However, such a move would take away Zimbabwe's powers over its monetary policies. It also means Zimbabwe's interest rates and inflation levels will be the same as South Africa's. Biti said: Any such decision depends on the performance of the economy - that would be the ultimate deciding issue. He said there were signs of stability with the country expecting a growth rate for the year of 6%. Zimbabwe recorded a -1.1% inflation rate in April. Just last month Biti announced that Zimbabwe would be receiving 400-million in credit lines from several African countries. Chris Hart, an economist at Investment Solutions, said adopting the Rand was an important step in terms of Zimbabwe's recovery. It effectively imposes a fiscal and monetary discipline with the Zimbabwean economy functioning on a basis where it does business that is more competitive on an international basis. He said it could be painful initially because, among other things, our interest rates will be linked to theirs and they will have to cut back expenditure. However, it would put their economy on a stronger footing in the long term. Roodt said the only downside would be that, in the short term, South Africa would probably have to lend Zimbabwe Rands to kick-start any switch-over. We can either provide them a loan or they can earn it. The latter is probably best as then we don't have to run any major risk. Last week the African Development Bank announced a short-term emergency recovery programme in Zimbabwe. The bank called for greater foreign assistance and an injection of private capital to resuscitate the economy. Announcing the strategy that would cover the next 19 months to December 2010, the bank said it had eliminated the quasi-fiscal activities of the Reserve Bank of Zimbabwe and introduced cash budgeting, spending only what it receives in revenue.
- AfricanCrisis, June 1, 2009
---
Zimbabwe has this week been rated as the most food-aid dependent country in the world, a title that comes as the unity government continues to refuse to act on the ongoing land invasions. According to a report released by the International Federation of Red Cross and Red Crescent Societies this week, up to 80% of the population relies on food-aid to survive. The report also revealed that more than half of the children who died as a result of the cholera epidemic were critically malnourished. The details in the report are a shocking indication of the severity of the ongoing crisis in Zimbabwe, which used to be regarded as the 'breadbasket of Africa'. The Global Political Agreement (GPA) that set out the guidelines for the formation of the unity government, called for the production of food to be encouraged to counter the desperate food crisis in the country. But, in complete violation of this point in the GPA, farm invasions have intensified and even been encouraged by Mugabe, to the point that food production is mostly non-existent. The ongoing and increasingly violent land attacks are therefore the leading cause of the country's suffering and lack of investment, and yet the unity government seems unable to take any action to stop the attacks. During an interview about the 100-day milestone of the Global Political Agreement last week, Prime Minister Morgan Tsvangirai even played down the serious nature of the invasions, calling them 'isolated incidents' that have been 'blown out of proportion'. "We have investigated examples of those so-called farm invasions," the Prime Minister continued, repeatedly referring to the land invasions as 'so-called' attacks. "We have asked the Minister of Lands (ZANU-PF) to give us a detailed report of what has been happening over all these so-called farm invasions and the outcry over that." Tsvangirai also insisted that the matter was being attended to, despite the clear lack of action by the government that has already sparked anger in the beleaguered farming community. Justice for Agriculture's (JAG) John Worsley-Worswick explained on Tuesday that the Prime Minister's comments are a gross "misrepresentation of the facts," that will ultimately jeopardise the future of the country. He further explained that "papering over the cracks," by playing down the severity of the land attacks, will not solve the bigger problem, saying: "We have a massive humanitarian crisis on our hands that will not be solved until the MDC challenges the Mugabe administration on issues such as the land attacks." The JAG official expressed frustration and disappointment over the MDC's unwillingness to confront ZANU-PF, explaining the party is becoming complicit with ongoing crime. "Farmers are now being exposed as a soft target because no one will take action to stop these attacks happening," Worsley-Worswick explained. "The continued infringement of property rights is a crime that no one is doing anything about." Many farmers have been forced into hiding as a result of the latest attacks, while more than 100 are already facing prosecution on trumped up land-related charges. The physical land attacks have also become increasingly violent in recent weeks, and in most cases, farm workers have been the victims of beatings and harassment at the hands of land invaders. Thousands more workers have lost their jobs because of the forced takeover of land by ZANU-PF loyalists, adding to the 94% unemployment already crippling the country.
- AfricanCrisis, May 26, 2009
---
The death rate inside Chikurubi prison, about 12 miles east of Harare [Salisbury], compares with the worst jails in history, according to The Standard, an independent weekly newspaper. Of the 1,300 inmates, at least 700 have died in revolting conditions. Six were found dead in their filthy cells yesterday alone. About the same number died last weekend. Some 100 bodies, many of them mutilated by rats, are stacked up in the prison mortuary. If they are unclaimed, they will be buried as paupers in prison grounds. The collapse of Zimbabwe's economy and of the state itself has crippled the prison system, leaving thousands of inmates with scarcely any food. Any provision of medical care has also collapsed, leaving prisoners to die of starvation and disease. Chikurubi packs about 30 inmates into cells designed for only 10. An off-duty warder confirmed the figure of 700 dead and said the mortality rate in other prisons was probably similar. "It's the same at all the rest of the prisons around the country," he said. "We often find six died at a time. A lot have AIDS, but die quickly because they don't have enough food." Since Zimbabwe's new coalition government took office in February, the International Committee of the Red Cross has begun improving prison conditions, installing a borehole in Chikurubi two months ago.The death rate has recently fallen, but prisoners still succumb almost every day. Between November and January, 327 deaths were recorded at Chikurubi - almost a quarter of all the inmates.Major-General Paradzai Zimondi, the commissioner of prisons, is in President Robert Mugabe's inner circle. "He has never been to see what is going on in Chikurubi" said the warder. "He doesn't care."
- Daily Telegraph, May 19, 2009
---
If the state of the toilets in public and even private buildings in Harare [Salisbury] were a measure of the inclusive government's progress, then it has failed miserably. In the courts, in the ministries, in all public buildings and some privately owned office blocks, the putrid smell of human waste is perhaps President Mugabe's most telling legacy. Emaciated prisoners in fetid cells where water pipes have not been fixed since the days of Rhodesian rule are another legacy of ZANU-PF's staggering failure, which goes way beyond the 10 years of political turmoil since the Movement for Democratic Change emerged. Even top government schools which used to produce some of the best education results are shells. Some of the bricks and mortar are still there, but the windows, desks, doors, blackboards and books are missing. Despite this aversion to maintenance, Mugabe's power is slowly ebbing, mostly because he can't get hold of the cash for his power base. The re-detention on Tuesday of 18 activists accused of a repetitive plot - trying to overthrow Mugabe - was the most serious ZANU-PF breach of the political agreement to date, even if 15 were freed on bail 24 hours later. There are so many breaches of the political agreement it is astonishing that it still there at all. But neither side has any alternative. As one diplomat said after the re-arrests: "Prime Minister (Morgan) Tsvangirai can't threaten to walk out more than once. So he has a very difficult balancing act. But we do wish he, personally, would speak out more critically." Mugabe never gives up, even as his control - now limited to a diminishing group of thugs in the riot police and their senior officers, the hard core of the Central Intelligence Organisation (CIO) and military intelligence - is waning. The ordinary policeman is much more interested in organising a roadblock to extract bribes from motorists than looking for the mythical weapons Mugabe claims photo-journalist Shadreck Manyere, still in detention in hospital on Friday, had stashed somewhere among his laptop and cameras. It has begun to dawn on some ZANU-PF civil servants that the US Marines, the British Army and Rhodesians on zimmer-frames have not been massing on the border, as their CIO masters have been telling them. Mugabe has been at this particular game - keeping Zimbabwe on a war footing for a mythical invading force - for decades. His methods are not working as well as they used to, but he is not finished yet. Three times in the past week he put off a meeting to address his violations of the political agreement. Will he make concessions after he has attended President Jacob Zuma's inauguration? Probably not. Then what? Then the MDC will have to recommend that the SADC tries to resolve outstanding issues, which even some of its apologists recognise are, indeed, outstanding.
- AfricanCrisis, May 10, 2009
---
The Zimbabwean government has decided to suspend the country's national currency for a year, which has in fact already disappeared from circulation, state-run media reported on Sunday. "The Zimbabwe dollar will be out for at least a year because there is nothing to support and hold its value," Economic Planning Minister Elton Mangoma told the Sunday Mail. In January, in response to unprecedented hyperinflation, Zimbabwe legalised the use of foreign currencies including the Botswana pula, the South African rand, the United States dollar, the Euro and the British pound. The Zimbabwe dollar immediately went out of circulation. In the past two years Zimbabwe's central bank knocked 22 zeros off the local currency as the country's economy plunged info freefall. The highest note previously in circulation, a 10-trillion Zimbabwe dollar note, was not even enough to buy a loaf of bread.
- AfricanCrisis, April 12, 2009
---
As Mugabe continues persecuting White farmers, eight of them have been arrested for refusing to vacate State land. Two of the farmers have already appeared in appeared in separate courts in Chegutu and Chiredzi over land-related issues. The harassment of farmers comes hard on the heels of calls by Prime Minister Morgan Tsvangirai to halt the farm invasions. The farm invasions are likely to affect Zimbabwe's efforts top secure financial aid from the international community, warned analysts. In Chegutu, Martin Joubert was charged with taking hostage eight youths living on a farm allocated to Zanu-PF information and publicity secretary.Nathan Shamuyarira. Digby Sean Nesbitt appeared in a Chiredzi court for refusing to vacate a farm allocated to the Officer Commanding Matabeleland North Province, Senior Assistant Commissioner Edmore Veterai. Still in Chiredzi, former farmers Michael Fay-Dherbe of Farm 33 Hippo Valley Settlement, Benoit Lagesse of Farm 1 Hippo Valley, Cecil Jean Derobellad, Tony Renato Sarto of Lot 1 Ranch North, Jeffrey Soma of Lot 2 Fair Ranch and Mariah Theressa Warth of Wasara Ranch were arrested for refusing to vacate acquired farms. Also arrested were farm managers Jaison Mahomu (Lagesse), Albert Chisango (Derobellad) and Chenzira Wilson Gondo (Soma). Warth is expected to appear in court today, while the other five are due to stand in the dock on April 16.
<![if !supportLineBreakNewLine]>
<![endif]>
- AfricanCrisis, April 10, 2009
---
<![if !vml]>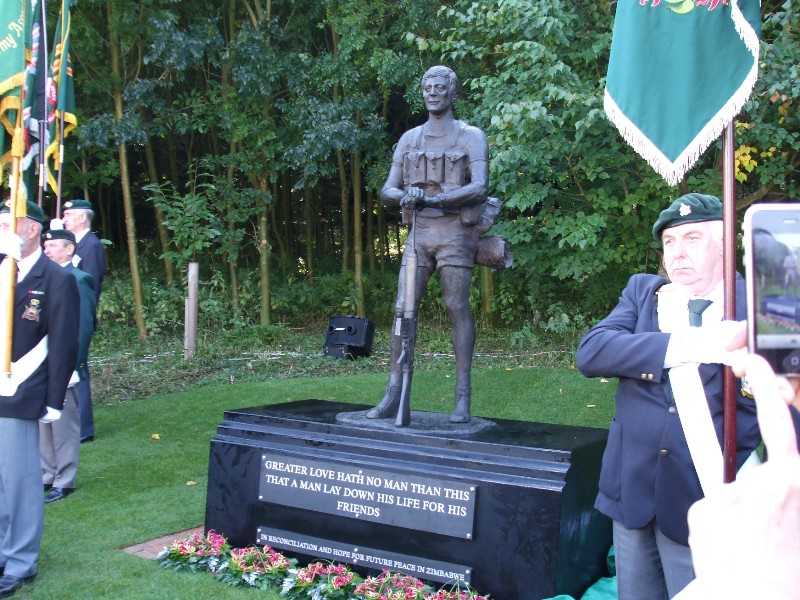 <![endif]>
Harvey Clifford Potter (aka Cliff), was born during the depression in Rochdale, Lancashire, on 3rd March 1929. He spent many nights in air raid shelters there during World War II before being evacuated to Fleetwood with his younger brother Norman (a stalwart of the Rhodesians Worldwide Kent Branch, who sadly died at the end of 2007) . During this time he joined the Air Training Corps as a cadet attending parades twice a week. At the age of 14 he left school to work at the local aircraft factory, following advice from the headmaster to "help win the war". This was something he later regretted as he forfeited the opportunity for further education. After WWII he moved to Blackpool with his parents, where they purchased a beachfront hotel. It was during this time, aged 17, he decided to join the Royal Navy Supply & Secretariat branch. To satisfy his interest in both aircraft and ships he served on two aircraft carriers, namely HMS Implacable and HMS Illustrious. In 1949 his parents decided to sell up and immigrate, along with his brother and sister. Their decision was based on an article published by Rhodesia House in the local newspaper promising readers "Your place in the sun" and an opportunity to "immigrate and flourish". He was extremely lucky to obtain a compassionate release from the Royal Navy and traveled with his family to Southern Rhodesia. After two years in Rhodesia he returned to the UK to marry Jean, the girl he met before the family emigrated. His two children were born 1952 and 1955 – first generation Rhodesians! After marrying he joined the civil service in Southern Rhodesia, completing 33 years of pensionable service. This service started in the GPO engineering branch followed by many happy years in the Royal Rhodesian Air Force. He retired from the RRAF, aged 50, but continued in the civil service as an Executive Officer with the Ministry of Defence, followed by a period with the Ministry of Agriculture where he eventually retired aged 60. During this time he was called up to the RRAF on many occasions. He became a founder member of the Royal Naval Association of Rhodesia, serving 31 years as a "skipper" and treasurer, and also served over 25 years in the Combined Shell-Hole MOTHs in Salisbury where he was the "Old Bill" for 15 years. In July 2005 he made the difficult decision to leave the country he loved, and that had been his home for 56 years, in order to return to the UK. A decision made by many others living in Zimbabwe. He is the proud grandfather of six grandchildren, and also has one great grandson living in Sydney Australia.
<![if !supportLineBreakNewLine]>
<![endif]>
- ORAFs report, March 3, 2009
---
Zimbabwe will introduce a Z$100-trillion note in its latest attempt to keep pace with hyperinflation that has left its once-vibrant economy in tatters, state media said Friday. The new $100,000,000,000,000 bill would have been worth about US$300 at Thursday's exchange rate on the informal market, where most currency trading now takes place, but the value of the local currency erodes dramatically every day. The Reserve Bank of Zimbabwe is introducing three other notes in trillion-dollar denominations of 10, 20 and 50, the government mouthpiece Herald newspaper said. "In a move meant to ensure that the public has access to their money from banks, the Reserve Bank of Zimbabwe has introduced a new family of banknotes which will gradually come into circulation, starting with the $10-trillion," the bank said in a statement quoted by the Herald. Just last week, the bank had introduced billion-dollar bills in denominations of 10, 20 and 50 with the same goal, but those notes are no longer large enough to keep up with hyperinflation. The last official estimate put inflation at 231 million % in July, but outside experts now believe it is many times higher. When Zimbabwe's leader Robert Mugabe first took power in 1980 the local unit was worth about the same as the British pound. With the local currency in freefall, everyone from street-side vegetable vendors to mobile phone service providers are pegging their prices in foreign currency to hedge against losses. Zimbabwe's central bank has licensed at least 1,000 shops to sell goods in foreign currency in a move aimed at helping businesses suffering from a chronic shortage of foreign currency to import spare parts and foreign goods. Other shops and service providers have followed suit al! though they have not been authorised by the government and have done so despite warnings that those arrested for flouting foreign exchange regulations would be prosecuted. Even basic commodities are scarce in Zimbabwe, driving up their prices in US dollar terms and making life here more expensive than in neighbouring countries, while an estimated 80 % of the population has been driven into poverty. The crisis has left Zimbabwe's health services in tatters, with government doctors and nurses on an indefinite strike to demand higher wages after hyperinflation turned their salaries into pittances. Even if the doctors were on the job, public hospitals and clinics have no money to buy medicine or equipment, no clean water, and often scant supplies of electricity. Most teachers have left the classroom to eek out a living elsewhere, and end-of-year examinations taken in November have yet to be graded after the markers demanded their wages in foreign currency, the Herald said on Friday. Schools were supposed to re-open this week for the new academic year, but government has already pushed back the start of classes by two weeks since students don't yet know if they passed. The breakdown in the national infrastructure has allowed a cholera epidemic to spread across Zimbabwe, claiming more than 2,100 lives, according to UN estimates. Meanwhile, chronic shortages of food are starting to bite again this year, as rural households' supplies from last year's harvest are running out months before the new crops will be ready. The World Food Programme says five million people - nearly half the population - are dependent on food aid.
- ZWNews, January 16, 2009

---
More than 30,000 people in Zimbabwe have been diagnosed with cholera, the World Health Organisation said Thursday, as the number of those contracting the deadly disease continues to mount. As many as 31,656 suspected cases were diagnosed to date with one third of them in the capital of Harare [Salisbury], the WHO said. The organisation last reported some 29,131 suspected cases on Monday and 1,564 deaths from the water-borne disease. Cholera also continues to plague neighbouring South Africa, where it has killed 13 people, mainly in the Limpopo border region where nine people have died from a total of 1,334 suspected cases, the WHO said citing South African sources. United Nations aid agencies fear Zimbabwe may be hit with up to 60,000 cases, with the upcoming rainy season likely to spread the disease more easily.
- report sent by RH-GE (Johannesburg), January 2, 2009
<![if !supportLineBreakNewLine]>
<![endif]>
---
I have just returned from Mutare (Umtali) , numbed by the slaughter I have seen. When contacted with the news of these events I packed a truck with food and
blankets and went down with my staff to see what help we could offer. I could not imagine what I was about to see. Bullets whistling across main roads, people screaming and running as bullets punched holes through their homes, bodies being dumped into army trucks. I eventually placed the food and blankets with a church group for distribution and headed to central Mutare (Umtali) to see if I could get help sent south to Marange. Everyone, ZRP included, are too scared to move. Helping a family look for two missing relatives at the Mutare (Umtali) morgue has left me with visions of horror that will haunt me to my death day. I estimate over 200 bodies lies in rotting piles at the morgue, grotesque heaps of what were human beings until a few days ago. They are unknown persons, families are scared to come forward to claim them, fearing the same fate. The stench is indescribable; power is off in Mutare (Umtali) for between 12 and 18 hours per day. You may ask what this is all about. It is simple. The dead are "suspected" by the military bosses to be illegal diamond panners. No due process, no presumption of innocence, no right to defend ones self in a court of law, just instant summary execution by the defenders of this "liberation". Top businessmen in Mutare (Umtali) have been picked up by the army, and taken away, tortured for a few days, released, no charges, no crimes, just a "suspicion" that "maybe you know something". They are also robbed of any Forex they have on them/in their homes. I met two of them at an attorneys office, one is a 70 year old man, his back and buttocks beaten for 3 days, until he begged them to kill him, then they realised he actually did not know anything. Another, Ari Badhella (family of Badhella Traders) bought his way out of the torture sessions.
- report sent by "Neil", December 16, 2008
---
Growing international fury came as cholera ravaged the people - 575 have died and 13,000 are infected - and the economy is worse than anything the world has seen. The Zimbabwe central bank sacked executives at four banks accused of illegal foreign currency trading. The managers were sacked for diverting Zimbabwean dollars to the black market before the notes were introduced, central bank Governor Gideon Gono told the state-run Herald newspaper. Referring to reports that the central bank itself bought black market currency, Gono said: 'We are sick and tired of being labeled crooks.' Inflation is at 231,000,000 per cent and the Reserve Bank has been unable to print money fast enough to keep up with prices, which double every 24 hours.
<![if !supportLineBreakNewLine]>
<![endif]>
- AfricanCrisis, December 9, 2008

---
The embattled Zimbabwean strongman, Robert Mugabe ordered the chilling execution of 16 rioting soldiers in a cold blood murder carried out by members of the Presidential Guard death squads at its PG HQ Base in Dzivarasekwa, north-west of the capital. Three others died during torture, we can reveal. The callous act has been communicated to all members of the armed forces as a chilling warning by the paranoid regime. Last night, a fast track military court marshal at Army Head Quarters' KG6 Barracks was presided over by the retired High Court judge Major General George Chiweshe, sitting with three other assessors, two Majors and a Captain. They passed death sentences to the 16 soldiers and it was signed by Robert Mugabe just before midnight and executions were carried out around 4am in the presents of a military doctor and the victim's bodies were taken to unknown destination. It is not known whether relatives of the victims have been informed. Major General Chiweshe is the current Chairman of the Zimbabwe Electoral Commission, and prior to his appointment to the High Court bench he was the Director Army Legal Services (DLS). The 16 soldiers executed on Tuesday morning are believed to have been arrested during the skirmish with police in the last few days. It is also reported that three other soldiers died during torture. Zimbabwe is also facing a cholera epidemic which has killed more than 400 people.
<![if !supportLineBreakNewLine]>
<![endif]>
- AfricanCrisis, December 6, 2008
---
The Zimbabwean capital, Harare [Salisbury], is offering free graves for victims of a cholera outbreak sweeping the southern African state, which a United Nations agency says is only the tip of a health crisis. Nearly 400 people have died from the disease, preventable and treatable under normal conditions, which has infected more than 9,400 in the country and spread to some of its neighbours. Harare City Council has decided not to charge fees for the burial of victims of the water-borne disease as residents are already under pressure from an economic crisis, including shortages of food and banknotes, the state Herald newspaper said on Saturday. "Council has since resolved to offer free graves to those who have died of cholera since most people are finding it hard to get cash to pay for the graves," it quoted the town clerk as saying. A grave in Harare costs an average of $30, a teacher's monthly salary at the current exchange rate. The World Health Organisation (WHO) said on Friday a lack of clean drinking water and adequate toilets were the main triggers of Zimbabwe's epidemic of cholera, a diarrhoeal disease that is especially fatal for children. WHO spokesperson Fadela Chaib said there are very few places where people infected with cholera in Zimbabwe can seek medical care, and the clinics that are open have far too few health workers to contain the outbreak. International aid groups are building latrines, distributing medicine and hygiene kits, delivering truckloads of water, and repairing blocked sewers across Zimbabwe to combat the cholera outbreak, which has moved into South Africa and Botswana.
<![if !supportLineBreakNewLine]>
<![endif]>
- Reuters report, December 1, 2008
---
Nearly a decade of economic meltdown has made it impossible for Harare [Salisbury] to import adequate chemicals to treat water. As a result, many citizens have
resorted to shallow wells and rivers to obtain drinking water. Meanwhile the United Nations says about half the population is in urgent need of food aid. Unemployment is estimated at 90% and official inflation at 231 million % - the highest in the world. The health and economic problems plaguing the country come as a power-sharing deal between Mugabe and opposition signed in September has failed to take off. The opposition Movement for Democratic Change (MDC) has refused to form the government of national unity, accusing Mugabe of grabbing all the key ministries such as foreign affairs, local government, finance, home affairs and defence.
- SAPA report, November 30, 2008
---
Inflation levels in Zimbabwe could reach an all-time world record within weeks. The latest figures put the country's annual rate at 516 quintillion per cent - 516 followed by 18 zeros - overtaking Yugoslavia in 1994 and putting it behind only Hungary in 1946. With goods unavailable and official statistics widely distrusted, the Cato Institute in Washington calculated the figures based on exchange rate movements and market data. In post Second World War Hungary monthly inflation reached 12,950,000,000,000,000 per cent, with prices doubling every 15.6 hours - Zimbabwean prices are currently doubling every 1.3 days. The most famous hyperinflation, Weimar Germany in 1923, is in a distant fourth place, at 29,525 per cent a month with prices doubling every 3.7 days. Prof Steve Hanke said: "They still have a way to go to catch Hungary, but they are getting there. This is conjecture, but if they keep going at this pace, they have a shot at it within a month or maybe a month-and-a-half at the outside. "For ordinary Zimbabweans, the consequences are appalling and they must spend money as soon as they get it before it loses its value. But the dysfunctional economy means that goods are in desperately short supply, and they must spend hours foraging to find things to buy. There comes a point, though, where the inflation rate makes little practical difference. "The economy just stops functioning or slows down very much," said Prof Hanke. "A lot of barter takes place. Money is not used as much or if it is, it's all foreign exchange." Supermarkets in Harare are accepting only US dollars and South African rands, leaving those Zimbabweans without access to foreign currency in dire straits. The latest official figure for inflation in Zimbabwe - dating back to July - is 231 million per cent a year.
- Daily Telegraph, November 14, 2008
---
<![if !vml]>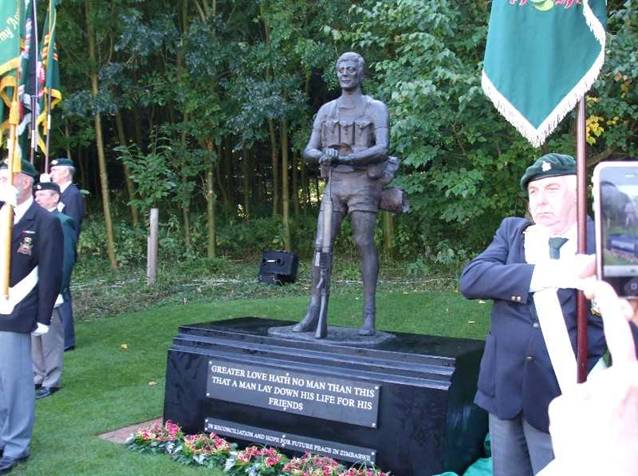 <![endif]>
Rhodesian regimental colours raised in London - 9th November 2008. Rhodesians never die!
---
<![if !vml]>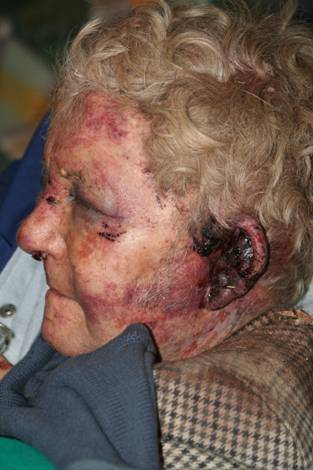 <![endif]>
On Saturday 27 September 2008 at Hatfield, Hertfordshire the Rhodesian Light Infantry Association unveiled and re-dedicated the RLI Trooper Statue. This service was carried out in the Chapel and the Armoury of Hatfield House by kind permission of the Marquess of Salisbury. Salisbury in Rhodesia was named after his family, and the Marquess's brother, who was a member of the RLI, was killed in action. The Sunday started at the 'Comet Hotel' in Hatfield town centre. The hotel was named after the world's first jet engine airliner which was manufactured by the local De Havilland aircraft company. Although the hotel is called the 'Comet', the king size model of an aircraft sitting on the top of a pole in the forecourt is that of a De Havilland 'Dove'. There were over one hundred and fifty RLI members and visitors registered, receiving a complimentary bag containing a souvenir programme, an RLI glass tankard and given a clip-on lapel name-tag, plus the extra security protection of a plastic RLI wrist band. This tag was green and had the picture of the trooper statue on it. At the main entrance of Hatfield House the steps were graced by six standard bearers holding the flags of the Rhodesian Light Infantry, and also eight buglers of the 'Rifles' who played a fanfare. The chapel is big for the household but was too small to seat one hundred and fifty 'botties', so well over one hundred were seated in the armoury. Col Ron Reid-Daly was present in the upper echelon of the chapel. There were four large television screens in the armoury so that everyone could see and hear the service. The two venues were next to each other and connected by a short passage - so short in fact that when Pipe Major John Spoor in his splendid Scottish regalia played the bagpipes and marched from the armoury into the short passage to the chapel; in doing so he disappeared from our sight and immediately re-appeared on the television screens After this part of the service everyone went back to their coaches and were transported to the bank of the River Lee where the Trooper statue was draped in the Green and White. After a short service and speeches which mentioned the Rhodesian Air Force and its air cover and helicopter transportation into forward areas, the Marquess of Salisbury unveiled the Trooper Statue, with the Last Post played by the buglers of the Rifles Band. Many wreaths of flame-lilies were laid at the base of the statue. Following this all were entertained by the playing and marching of the Rifles Band and Buglers. The Trooper Statue is sighted on a wide grass bank with its back to a commercial forest of tall straight pine trees, fronted by a copse of deciduous trees.
- report sent by ORAFs, September 29, 2008
---
Zimbabwe's inflation rate has risen to 2.2 million per cent, the government said yesterday. Mugabe accused Britain of trying to seize control of resources in Zimbabwe.
- Daily Telegraph, July 17, 2008
---
| | | |
| --- | --- | --- |
| <![if !vml]><![endif]> | <![if !vml]><![endif]> | <![if !vml]><![endif]> |
This is what Mugabe and his thugs are doing to the elderly people in Zimbabwe. We need to have Mugabe and Thabo Mbeki answer for crimes against humanity.
- pictures sent by ex-Rhodesian refugee now living in Melbourne, Australia, July 10, 2008
---

The Zimbabwe Vigil, a London-based protest group, has launched a campaign to have the 2010 Football World Cup moved from South Africa because of growing instability in the region. It says FIFA must take action to ensure the safety of teams and their supporters. The Vigil has been demonstrating outside the Zimbabwe Embassy in London every Saturday since 2002 in protest at human rights abuses by the Mugabe regime. It is gathering signatures for a petition to FIFA from the thousands of people passing the Embassy. It says the situation in South Africa will be so bad because of the implosion of Zimbabwe that the World Cup should be moved. The Vigil is also running a petition calling on European Union governments to suspend aid to governments of the Southern African Development Community (SADC) because they have failed to hold Zimbabwe to account. It wants this money to be used instead to finance refugee camps in countries neighbouring Zimbabwe to provide a refuge for Zimbabweans forced to flee because of hunger, violence and the need for medical attention safe from xenophobic violence. Vigil Co-ordinator Dumi Tutani said "We find it repugnant, for instance, that British taxpayers' money should go to the Malawi government. More than £60 million a year goes to Malawi whose President, Bingu Wa Mutharika, has been given a farm in Zimbabwe and has named a highway after President Mugabe".
Text of the Petitions:-

1. "A Petition to the International Federation of Football Associations (FIFA). With the deteriorating situation in Zimbabwe and the likelihood of unrest spreading to South Africa we call upon FIFA to move the 2010 World Cup from South Africa to a safer venue. By the time the World Cup takes place President Mbeki's support of the Mugabe regime will have made the whole region unsafe because millions more refugees will flee Zimbabwe prompting further xenophobic violence in neighbouring countries. FIFA must ensure that World Cup teams and their supporters are not endangered."

2. "A Petition to European Union Governments. We record our dismay at the failure of the Southern African Development Community (SADC) to help the desperate people of Zimbabwe at their time of trial. We urge the UK government and the European Union in general to suspend government to government aid to all 14 SADC countries until they abide by their joint commitment to uphold human rights in the region. We suggest that the money should instead be used to feed the starving in Zimbabwe."
- report sent from the FLF (South Africa), July 8, 2008
---
Mugabe's onslaught against his opponents widened to include their families yesterday when the wife and child of the mayor of Harare [Salisbury] were abducted. Armed men raided the house of Emmanuel Chiroto, a senior member of the opposition Movement for Democratic Change and recently elected mayor. They burned down the house with petrol bombs and kidnapped his wife, Abigail, 27, and their four-year-old son, Ashley. The boy was released a few hours later, but Mrs. Chiroto is still missing. The incident bore all the hallmarks of a state-organised operation designed to break the MDC's organisation by targeting its key figures. Five of the MDC's local organisers have been murdered.
- Daily Telegraph, June 18, 2008
---
Mr X arrived by bus in a town north of Harare [Salisbury] at approximately midnight on the night of Sunday 11th May, 2008. The (full) bus had been delayed by a breakdown. Despite the late hour, a 200 strong group of stick and axe wielding men and women aged between 20-30 years and imported from another area, was waiting to meet the passengers. The assailants were led by Mr Mafiyos (MP for the area), Mr Zonke (army personnel, rank unknown, but the only one to carry a firearm) and Mr Kararira of the youth brigade and residing at Dande Store. These 3 individuals represented wards 1 to 34 on the voter's role, which Mugabe lost. The group appeared to be "high" on either alcohol and/or drugs, since their actions were irrational. They questioned the occupants of the bus as to their political affiliation. Those who had a ZANU-PF card were released unharmed, but those men and women who did not have a ZANU-PF card were beaten. Mr X did not observe any children being physically attacked. According to Mr X, one woman and 2 men, all in their 40's, were beaten to death at the bus stop. A lone policeman at the scene was too intimidated to take any action. When it came to Mr X's interrogation, he stated he had lost his ZANU-PF card. This was not believed and he was beaten twice on the lower back and once on the right hand. When I examined Mr X, he had a slow, cautious gait. He experienced obvious pain on flexing his vertebral column. Power, tone, reflexes and peripheral sensation were all normal. There was a healing 4 cm fairly recent superficial abrasion over his lumbar spine. The dorsum of his left hand was swollen and tender and there was a small superficial abrasion at the base of his thumb and another superficial abrasion on the lateral aspect of the base of the right second finger. He responded well to oral analgesics plus rest. Mr X was also examined by a second doctor in order to confirm my findings. Mr X informed me that persons living in the area were under-going regular beatings, their property stolen, their houses burnt down and their children were unable to attend school since all the teachers had run for their lives.
- Report sent anonymously, June 11, 2008
---
Zimbabweans were given the stark choice yesterday of eating or voting, as Robert Mugabe tightened his grip ahead of the final round of voting in the presidential election. James McGee, the US ambassador to Harare [Salisbury], said that Mugabe was using food as a "political weapon", allowing members of the opposition Movement for Democratic Change food aid only if they handed over their voting cards. The claim came after the [ZANU-PF] regime banned all overseas aid agencies and non-governmental organizations from working, ending the food relief they provide to millions. Mr. McGee said the government was trying to become the sole distributor of food to help Mugabe win the election in three weeks' time. "If you have an MDC card you can receive food, but first you have to give your national identity card to government officials. This means they will hold on to it until after the election." Mr. McGee said. "The only way you can access food is to give up your right to vote. It is absolutely illegal. We are dealing with a desperate regime here which will do anything to stay in power," he said. The government said the groups had been banned for "operating politically" and supporting the MDC.
- Daily Telegraph, June 7, 2008
---

Deep into the night a bunch of gangsters burst through the outer gates of the Rogers' property, broke down the door of the house and threatened the occupants with brandished guns. Meanwhile these "war vets" were screaming the usual insults. In case anyone remains unaware of the nature of these brutish impostors, they are drug-crazed youths ruthlessly trained and brainwashed to carry out violent acts on behalf of their paymasters in Harare. Their evil has been unleashed in the aftermath of ZANU-PF's heavy defeat in the elections. Unable to retain power legitimately, Mugabe has let loose the dogs of war. Merely threatening a middle-aged couple was not enough for these heroes. Instead they fired seven bullets and set about assaulting them with rifle butts. Both adults suffered smashed cheek bones. Bruce was beaten black and blue and X-Rays revealed that two of his vertebrae had been broken. Mrs. Rogers incurred a broken eye socket and several fractured ribs. Apparently her face was so badly belted that she was barely recognisable. Both are now on retroviral drugs.

Report sent by Bob Vinnicombe (Sydney, Australia), May, 16, 2008
---
The illegitimate ZANU-PF government is at war with its citizens. This war intensified after 29 March 2008 polls, which ZANU-PF lost to the Movement for Democratic Change (MDC). Robert Mugabe (84 old), is the leader of ZANU-PF. It's a serious crime for not supporting ZANU-PF. Many houses of dissenters have been burned. More than 5000 Zimbabweans have been left homeless. On 4 May 2008, we had 7000 casualties. Now the number has increased as cases of torture, rape, and murder are coming up on daily basis. Only 10% of the people tortured or beaten are able to get treatment. From the 7000 casualties, only 700 have been treated. One State registered Nurse said, "We are particularly worried about people with fractures who are still out there because their injuries will go septic in about a week and there are no drugs in the government hospitals. The violence started slowly in the Mashonaland East province, where Robert Mugabe's ruling ZANU-PF suffered defeat in the March 29 election, but had spread throughout the country." Robert Mugabe and his ZANU-PF are committing genocide. This is being done tactfully, in such a way that the world will not see. Most of the crimes have been concentrated in rural areas where independent media is not available. Independent newspaper offices have been bombed and closed down some years back. Only state registered (biased) journalists are allowed to report. Thousands of independent journalist have fled the country and are reporting from outside. The world will admit some years after Mugabe is gone that genocide has taken place.
<![if !supportLineBreakNewLine]>
<![endif]>
- report submitted to AfricanCrisis, May 12, 2008
<![if !supportLineBreakNewLine]>
<![endif]>
---
This evening on television I saw that the MDC's spokesman had said that approximately 500 of their members have been injured in attacks by Mugabe's thugs. He also said their houses and huts were being set on fire. Zimbabwe's opposition said on Sunday that 10 of its members had been killed by supporters of Mugabe's ruling ZANU-PF party since the disputed elections were held three weeks ago. "I can confirm that 10 of our members have died, four of them in the last few days, due to political violence perpetrated by ruling party supporters in the aftermath of the elections," said Nelson Chamisa, spokesperson for the MDC.
- AfricanCrisis, April 21, 2008
---
Details of a widespread brutal campaign by the military to keep Mugabe in power has been revealed to The Sunday Independent. Central to the plot are hundreds of "command centres", led by war veterans and youths in police uniform, which are being established across Zimbabwe to wage a national terror campaign. Zimbabwe's top military authority, the Joint Operational Command, made up of service chiefs, has established a chain of command to ensure that Mugabe and ZANU-PF remain in office even though they both lost the elections three weeks ago. The command centres are waging a campaign of intimidation, violence and ballot rigging. In this way, the regime plans to guarantee victory for Mugabe in a second round of presidential elections. The network will probably not cover the cities, all strongholds of Morgan Tsvangirai, the opposition Movement for Democratic Change (MDC) leader. Instead, they will be concentrated in the rural areas where 70% of Zimbabweans live. Three weeks after the poll's first round, no official results have been announced, but the regime has publicly acknowledged that Mugabe fell short of the 50% threshold needed to avoid a run-off. A senior army officer and a police chief described the president's re-election plan to The Sunday Independent. They attended a meeting in a rural province on Monday morning. It included traditional chiefs and local politicians and was addressed by two senior members of Mugabe's regime. They said each command centre would consist of three police officers, a soldier and a war veteran who would be in charge. They would dispatch militias, comprising war veterans and members of the ZANU-PF's youth wing, to assault and torture known opposition supporters. They would also control the local police to ensure that the militias were immune from arrest. The generals have called on the four security services - army, police, intelligence and prisons - to ensure that people are terrorised into voting for Mugabe in the expected re-run of the presidential poll. The results of that poll have still not been released, arousing suspicions of vote-rigging and provoking growing domestic and international pressure on Zimbabwe's authorities. The victor has to win 50% plus one vote of the votes cast or face a re-run. The result, when it is finally announced, cannot be recounted, according to the Electoral Act. The Sunday Independent has heard evidence that the announcement of the results has been postponed deliberately to allow Mugabe's government to falsify votes to close the gap between him and Tsvangirai. Tsvangirai is widely believed to have won the election with about 49 to 51% of the vote, against Mugabe's 42 or 43%. Independent candidate Simba Makoni won the rest. Mugabe's strategy appears to be to close the gap so that his rigged victory in the expected run-off election will be more credible. Apart from doctoring the presidential votes, Mugabe's officials have also needed the delay to replace votes cast for MDC candidates in the parliamentary poll on the same day to try to ensure that the rigging cannot not be detected, according to sources. All the results for the four elections - parliamentary, senate, local government and presidential - that took place on March 29 were posted outside more than 8,000 polling stations by midnight April 1. ZANU-PF narrowly lost its parliamentary majority to the MDC and the presidential results had to be transferred to Harare [Salisbury] for collation. Generals who report directly to the Joint Operational Command have explained in a series of closed meetings how people will be terrorised and beaten into voting for Mugabe in a re-run. The details released by our two informants were from one of the planning sessions. They rushed to Harare [Salisbury] from a remote rural area this week to reveal the plan. They disclosed the names, ranks and even the mobile phone numbers of those people from one province who have been ordered to join the campaign. Wilfred Mhanda, one of Mugabe's senior commanders from the 1970s war against white Rhodesia, said yesterday: "The report you have shown me is true. What is explained in the report is typical of what is already happening in various parts of the country, and those who know ZANU-PF as I do will not be surprised. What worries me is there seems to be no way out of where we are going." The scores of names in the report - several familiar to many Zimbabweans who have been victimised for their political beliefs - and the province where the meeting took place cannot be identified to protect the identity of the two men. A senior politician told security personnel at one provincial meeting: "You have to defend the revolution. If you don't and [it] is sold through the ballot, we will go back to the bush and fight. Is that what you want? I don't think so." Select groups have been told how victory for Mugabe will be achieved in the run-off and in the recount of 23 constituencies, which the partisan Zimbabwe Election Commission began on Saturday. State media said the results on the recount were expected in a few days. According to reliable sources, sealed ballot boxes have been opened and new seals have been forged. Votes for the MDC have been taken out and replaced by votes for ZANU-PF. It has been done so carefully that no one will be able to detect the fraud - the bogus votes have the same numbers as those issued to voters on polling day and the number of votes in each box has been carefully reproduced. Also new pale-blue forms, V11, which were posted outside polling stations with results of the four elections, have been recreated with forged signatures of the polling agents and different tallies, favouring both ZANU-PF in the parliamentary contest and Mugabe in the presidential poll. Chiara Carter reports that the campaign of terror was verified yesterday in a report by the Human Rights Watch organisation, which said ZANU-PF was using a network of informal detention centres to beat, torture and intimidate opposition activists and ordinary Zimbabweans. A statement issued on Saturday provided a chilling account of systematic intimidation and violence, including the abduction and savage beating of opposition supporters in several areas. In the past two days, researchers interviewed more than 30 people who had been tortured and, because of it, sustained serious injuries, including broken limbs.Human Rights Watch, a respected non-governmental group that monitors human rights across the globe, called on the African Union to step in immediately to address the crisis and protect civilians.The organisation said its researchers had heard from victims and eyewitnesses that, in the wake of last month's election, ZANU-PF had set up detention centres in the opposition constituencies of Mutoko North, Mutoko South and Mudzi in the province of Mashonaland East, and in Bikita West in Masvingo. Opposition supporters were being tortured at these camps. The organisation said ZANU-PF officials were calling the crackdown Operation Makavhoterapapi ("Where did you put your cross?"). The aim appeared to be twofold: to punish people for having voted for the MDC, and to intimidate them to vote for ZANU-PF in the event of a presidential run-off.

- report by Petra Thornycroft, April 20, 2008
---
People in Zimbabwe queue daily for fuel. This has been their way of life for several years now. In the days of the Rhodesian Bush War we had worldwide economic sanctions against us. Back then Ian Smith's Government issued fuel ration cards and we could only buy fuel according to our monthly allowances. So a farmer would be allowed more fuel than a normal urban dweller for example. In this organised way we never had queues and problems like this.
- AfricanCrisis, March 31, 2008
---
According to the 2008 CIA World Fact Book (released on 17th January 2008), Zimbabwe has slipped to second to last poorest country on Earth, just ahead of the Democratic Republic of the Congo. It's GDP per capita stands at a paltry $500. Furthermore, it ranks third to last in unemployment rate which stands at 80%. Zimbabwe also ranks fourth to last in life expectancy at 39.5 years. 24.6% of its population lives with HIV/AIDS, making it the fourth most infected in the world. Lastly, when it comes to inflation, it ranks dead last with an estimated figure of 6072%.
- AfricanCrisis, January 24, 2008
---
<![if !vml]>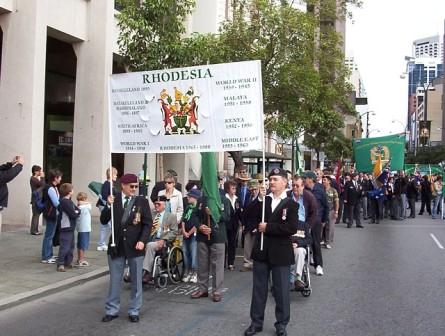 <![endif]>
A reunion of the Rhodesian Parachute Jumping Instructors took place in Busselton, Western Australia in January 2008, at which former RPJIs from various parts of Australia and from South Africa were able to attend. The highlight of the reunion was a sky-dive undertaken by Mike Duffy proudly trailing the Rhodesian flag.
- report sent by ORAFs (RhAF Association), January 10, 2008
---
Police in Zimbabwe have arrested two more White farmers for defying government eviction orders, news reports said on Wednesday. Johannes Fick and Gideon Theron, both farmers in the tobacco-growing Beatrice district south of the capital, appeared in court on Tuesday, said the official Herald newspaper. "It is alleged the two extended their occupation without government authority," said the Herald. The two will stand trial in January next year. More than a dozen White farmers have been arrested since the authorities started enforcing eviction orders in October. Until then, only 400 or so White farmers were still left on their farms after Mugabe launched his controversial programme of White land seizures in 2000. The government had given some of the White farmers until the end of September to leave. Some of those who have been arrested want to challenge the country's land laws that they say violate their constitutional rights. Zimbabwe, once a renowned farming country, has suffered declining harvests since land reforms were launched.
- SAPA report, December 19, 2007
---
The ever-escalating cash squeeze and runaway inflation has made a mockery of the Zimbabwean currency and normal economic activity. A newspaper advertisement showed a four-bedroom house with a pool and tennis court in Harare's [Salisbury's] leafy Glen Lorne suburb selling for just under Z$1 trillion, a whopping $33m at the official bank rate but only $667 000 on the widely used black market. An identical property cost half the price only a month ago. Prices of household furniture, groceries and food and rentals have more than doubled in the past month as businesses seek to eke out a profit and remain afloat, but at a cost to consumers ravaged by the world's fastest rising prices. Shops which were emptied of basic goods after Mugabe announced a blanket price freeze to tame inflation in June, have started restocking but prices have sky-rocketed. Salaries are failing to keep pace with galloping inflation - the world's highest at nearly 8000% - which has inflamed tensions in a country with rising unemployment and enduring foreign currency, fuel and food shortages. In spite of claims of recovery in the regime-controlled media, Mugabe's government has so far failed to rein in the economic slide, which started when the ruling ZANU-PF regime seized White-owned farms and launched attacks on the official Black opposition.
- Southern Cross Africa News, December 15, 2007
---
The very first thing you see upon entering Harare International Airport is a portrait of "His Excellency" the President of Zimbabwe, Robert Mugabe. I recall my very first steps off the South African Airways flight from Johannesburg last year, seeing that grim visage and understanding immediately that I was entering a totalitarian state. As a prominent South African told me before I left for Zimbabwe, a surefire sign that you're in an undemocratic country is the proliferation of presidential pictures. Writing in the Sowetan, a South African newspaper serving the country's Black townships, about a recent trip to Harare Airport, Andrew Molefe observers "To step out of an aircraft at Harare International Airport is to step into a chamber of horrors. If an international airport is supposed to be the face of a country, Zimbabwe is slipping dangerously towards the edge of a precipice. The airport ablution facilities aren't working. Human waste greets visitors who need to use the toilets. The taps have run dry." The latest bad news to emerge about Zimbabwe is that British Airways has decided to cut all flights to and from the country due to the fluctuating state of the economy. This is a major development, considering Britain's historic ties to Zimbabwe and the relatively large number of people holding British citizenship who live in Zimbabwe. BA has also been an important transport method by which Zimbabwean asylum seekers have made their way into the United Kingdom. To understand the gravity of this news, keep in mind that the only other time in history that British Airways cut off service to Zimbabwe was in 1965 after the then "rebel" colony of Rhodesia declared a Unilateral Declaration of Independence from the United Kingdom, which the British government declared to be an act of treason warranting severe international sanctions. Things have changed considerably for this service cut-off, however: Zimbabwe is no longer a fledgling nation, but a failing or failed state run by a brutal autocrat. For now, the only way Zimbabweans will be able to travel to England is via Air Zimbabwe, which, in the words one Zimbabwean, "has developed what you might call a reputation for being unreliable." Not only is jet fuel hard to come by in Zimbabwe - causing flights to be delayed for days - but the carrier has only one international aircraft, which Mugabe frequently commandeers for his jaunts abroad, often without advance notice.
- CommentaryMagazine.com, October 31, 2007
Harare, Zimbabwe - Police stopped villagers from slaughtering and eating a giraffe that strayed into the outskirts of the capital amid chronic food shortages caused by an economic crisis, the official media reported Saturday. The adult giraffe was believed to have wandered from nearby farmland. Wildlife authorities took the giraffe away after police kept a crowd from killing it "for the pot," the state Herald reported. Zimbabwe is suffering shortages of meat and basic foods in an economic meltdown that has left it with the world's highest official inflation - nearly 7,000%. Independent estimates put real inflation closer to 25,000% and the
International Monetary Fund forecast it reaching 100,000% by the end of the year. A government order to slash prices of all goods and services by about half
in June has left stores across the country empty of meat, cornmeal, bread and other staples and crippled transportation services. The National Society for the Prevention of Cruelty to Animals said this month that it was launching a campaign to raise awareness about the moral and ethical issues surrounding cases of pets being slaughtered for meat. It said while it was not illegal to eat dog meat in Zimbabwe, the nation's laws covered the humane killing of all animals. In recent weeks, authorities also have reported one of the worst spates of bush fires across the country in recent memory, largely blamed on people who set fires to flush out the rodents. Roasted mice are a traditional dish in some areas.
- Article by Angus Shaw, Associated Press writer, September 22, 2007
---
British military commanders are reviewing contingency plans for the evacuation of up to 22,000 Britons from Zimbabwe after months of rising violence and food shortages. The Ministry of Defence has been asked to look urgently at what logistical help it could provide amid "real concerns" in Whitehall about Zimbabwe's slide into chaos. Diplomatic sources said that the review was focusing on a "civil contingency plan", which included seeking help from neighbouring countries. There is no plan to send in troops. "Military evacuation from a third country would only be used as a last resort," one source said. Under existing plans, Britons would be advised to take routes out of Zimbabwe into South Africa and to head for a former military base at Artonvilla in Limpopo province (Far Northern Transvaal). The MoD has been asked to consider whether it could help in the airlift of Britons from the region. The diplomatic sources said that if the MoD were unable to do so, chartered commercial aircraft would fly the evacuees to Britain.
- report posted by AfricanCrisis, August 17, 2007
---
Zimbabwe has lost over 90 percent of its wildlife since the government's controversial land grab, with an estimated 60 percent of animals having been killed by poachers to relieve massive economic woes, according to a report released by Zimbabwe Conservation Task Force (ZCTF). Johnny Rodrigues, author of the report, said wildlife had been almost wiped out on Zimbabwe's former private game ranches in the seven years since President Robert Mugabe began seizing and dividing the areas into small plots. "Some 90 percent of animals have been lost since 2000, while the country has seen an estimated 60 percent of its total wildlife killed off to help ease massive economic woes indiscriminately. There's a lot of commercial poaching, there are people on the ground snaring these animals," said Rodrigues. According to the task force, Zimbabwe had 620 private game farms before the land seizures began, but now has 14. And of 14 conservancies before 2000, only one remains. "They're telling the world they want the tourists to come back, but the tourists aren't going to come back because most of the animals you see nowadays have amputated legs. It's just like a rehabilitation center," he said. The report acknowledges that the findings are still preliminary - many of the farmers whose land was seized have left the country, so in some cases the group had to rely on hazy reports from people still near the former ranches. "We are not claiming to 'know' how much wildlife has been lost," the report said. "We have just tried to make the most accurate estimate possible with very limited data to work with."
Still, the trend is a disaster, because Zimbabwe once had some of the world's most progressive and successful conservation policies. Rodrigues blamed the government for killing 100 elephants last year so their meat could be served as part of Independence Day celebrations. His report exposed that the Zimbabwean government recently sold ivory to China in exchange for military hardware. According to the report, of 62 game ranches 59 made massive losses, including the killings of a total of 75 rare black rhinoceroses and 39 leopards. Most of the losses appeared among antelope, including 9,500 impalas, nearly 5,000 kudus, and 2,000 wildebeests. The report said "The country's economic meltdown has had a wide-ranging and devastating impact on what is one of Africa's premier tourist draws. The numbers help give a rough estimate of the environmental impact of Zimbabwe's recent descent into economic and political chaos". The document reported evidence of widespread slaughter of game on the private ranches occupied under Mugabe's controversial land redistribution programme. Government regulations meant to shield the animals have been disobeyed, and wildlife officials have been forced to focus their limited resources on Zimbabwe's national parks and reserves.
http://www.thezimbabwean.co.uk/viewinfo.cfm?linkcategoryid=3&linkid=8&id=5543
- report sent by JMK, New York, August 13, 2007
---
Zimbabwe suddenly looks like it has been in a war. The shops are empty, there is little traffic and everyone is walking around in a daze. People stop me and ask what is going on? Well just remember Pol Pot. He came to power in Cambodia in the mid seventies, launched what they called the Khmer revolution and in a matter of months they reduced the capital city to a shell occupied by 25 000 people - down from two million. In the process they had killed hundreds of thousands of skilled and experienced Cambodians, forced millions into the rural areas where they were required to undergo re-education and make a living from subsistence
agriculture. It will take Cambodia millennia to recover after this rapacious and ideologically driven regime was removed from power by military intervention. People outside Zimbabwe have no idea of just what has happened in Zimbabwe in the past month. Conditions have gone from difficult to impossible. I am not exaggerating when I say there are no basics - no flour, no maize meal, no cooking oil, no margarine, no matches, no fuel, no meat, no eggs. On top of this there are widespread shortages of water and electricity. I simply do not know how people are surviving. These terrible conditions are being deliberately created in a Pol Pot style
operation that is supposed to be dealing with run away inflation. Its real goals lie elsewhere. We now know that this operation was planned a long time ago -probably as soon as it became apparent that elections would have to be held in March 2008. This is no knee jerk reaction to inflation, or to remarks by the US Ambassador about regime change. It began with an exercise to generate a sudden spurt in inflation. This was achieved when the State started buying foreign currency on the open market in June, using freshly printed currency. In a week of frenzied activity the price of the US dollar went from about Z$70,000 to Z$400,000. Importers and industrialists were forced to raise prices to cover the replacement cost of stocks. The State then unveiled its "operation good governance". Under secret orders, the security forces were instructed to impose price reductions on all businesses. There was no legal basis for these instructions -just orders to go into firms on a systematic basis and order them to cut prices or else. Managers and owners were specifically targeted to intimidate them into compliance. These have been arrested in their thousands, abused and held over in filthy, overcrowded cells with ordinary prisoners. Trillions of dollars of stock values were slashed from prices, no rational basis for these price cuts were sought or tolerated. Suddenly firms faced the situation where they could not restock, could not manufacture and sell for a profit - most of their established products were now being priced into the market at below cost. The more you produced, the faster your demise. Fuel was priced at half its landed cost and overnight some Z$400 billion in stock values was lost as customers scrambled to buy cheap fuel at
half price or less. All imports stopped. The prices of all staple foods was likewise set at half or less the cost of production and when stocks ran out there was nothing to sell. Now many theories have been put out about this operation - it was popularist is one, "they are preparing for the elections and forcing firms to cut prices is an attempt to curry favor with voters". Many actually say it was about time that business was brought to heel - a reaction to the sharp price hikes caused by the first stage of this operation. It is too early for that to be the real reason; they see it as one outcome, but with little long-term value in their strategy. My own view, based on what I know about the background, is that this is a carefully planned and ruthless exercise to reduce the urban voting population, undermine the remaining support base of the MDC and take full control of the population and the economy in time for the March 2008 elections. The dismantling of the commercial farm industry has reduced the voting population on commercial farms from 2 million to about 600,000 and all of them are now under the control of either the State or ZANU- PF elements who can dictate how they vote. These resettled areas are virtually no go areas for the MDC. In Communal areas the food supply has been brought under control and direction, as has all other essentials for survival including the right of abode. Traditional leaders are tightly controlled by the State and are now under close supervision by resident CIO operatives who watch their every action. They have been through three elections and now believe that they can control the vote in these areas by these means. They are probably right. So the remaining threat is the urban vote. Now in the majority, with over 6
million people living in urban areas, the towns and cities are the last remaining centers of opposition. So like Pol Pot, the powers that be, in this case the small coterie of leaders surrounding Mugabe and the people involved in the Joint Operations Command, have decided to do some surgery. When this operation is concluded they hope to have reduced the urban population by as much as half, destroyed or taken over all major firms in the private sector and facilitated the takeover of all other surviving firms by loyal ZANU-PF supporters. They are deliberately halting food supplies to the cities, destroying jobs and the transport industry. They will then take the pick of the commercial and industrial infrastructure that remains - intact, almost as if a neutron bomb had been used, and move on from there. The remaining urban population would then be in the same position as the population in the rural areas - under tight control and able to vote only under supervision. Then ZANU-PF can allow an election to take place - probably in March as planned, even with observers for the last few days of the campaign and during the vote itself. ZANU-PF feels confident that it can win a clear majority - even a two-thirds majority vote under such circumstances. The only other issue is what happens to the three million Zimbabweans displaced by this ruthless, but clever scheme. Most of them will swim the Limpopo or cross the border at Beitbridge. Once in South Africa, or Botswana, or Zambia or the UK or the USA, they will settle down, breathe a sigh of relief to be somewhere where sanity prevails and try to make a living, any sort of living. They will gradually be assimilated and will start sending small sums of money "home" to keep their relatives alive in Mugabe's national detention camp. Most importantly, they will not be able to vote. What remains of Zimbabwe will be a sea of poverty and subsistence activity
with Party controlled islands of prosperity. A few foreign firms will be allowed to exploit our resources under close supervision and control and the output used to support the lifestyles of the new elite who will continue to enjoy the luxury and pleasures that have become their norm in recent years on the gravy train. It has nothing to do with price control.
- report by Eddie Cross, Bulawayo, forwarded August 7, 2007
---
For Rod Swales and many of Zimbabwe's 4,000 White farmers forced off their land by President Robert Mugabe's chaotic and violent land reforms, the chance to start afresh somewhere else was too good to pass up. Neighbouring countries welcomed them with open arms and furnished them with land, while the agricultural companies provided them with cash incentives. But five years later, 52-year-old Mr Swales is back in Zimbabwe at the forefront of a new wave of pioneers. Far from being deterred by the country's downward economic spiral, the farmers are convinced that it will hasten the end of Mr Mugabe's rule, and speed the day when they can set up in business once again. "I do believe the wheel is turning and sanity will prevail at some stage," Mr Swales said. "I speak to various ZANU- PF moderates and all of them advise us to be patient, there will be change, this thing can't continue."Mr Swales believes Mr Mugabe's regime is nearing the end, that an economy battered by inflation reported to have hit 13,000 per cent in June and where supplies of even basic foods such as maize flour and cooking oil have dried up, must surely soon collapse altogether. But Mr Swales admitted that the prospect of getting his old farm back up to production would be daunting. "Two weeks ago I went out to see it. It's an absolute wreck. It's the closest I've come to crying for some time. The barns, the roofs, the sheds, everything had been stripped. It will cost an untold figure to put that right and make it productive again. "But we are resilient people, we've hung in through wars and we'll hang in through this."
- Sunday Telegraph, July 29, 2007
---
Zimbabwe has imposed tight profit margins for businesses, stepping up a price rollback programme that has led to empty store shelves, long petrol queues and renewed fears of a total economic collapse. Mugabe ordered that prices for a wide range of foodstuffs and consumer items be slashed two weeks ago, accusing businesses of raising prices as part of an effort by Western opponents to overthrow his 27-year-old government. On Wednesday state radio reported a government taskforce overseeing the anti-inflation price scheme had set the price mark-up from producers to wholesalers at 5% and at 10% for prices from wholesalers to retailers. Industry and Trade Minister Obert Mpofu, who chairs the taskforce, also has revoked permits of private slaughterhouses and transferred all the country's
meat processing business to the larger state-owned Cold Storage Company (CSC), it said. Mpofu moved against the abattoirs - which handle about 40% of the country's meat business - because they had stopped meat supplies. "In view of this, the government has thus, with immediate effect, revoked the licences of all private abattoirs," he was quoted as saying by state radio. The new measures came as the government increased police patrols to enforce the price controls, which analysts say may provide temporary relief to a long-suffering population but is bound to worsen Zimbabwe's economy. Zimbabwe is struggling with chronic shortages of food and fuel and inflation of 4,500%. Last month the government ordered businesses to roll back prices on bread, beef, mealie-meal, milk, oil, and salt, sugar and other basic commodities in an effort to stem inflation. The forced price cuts, however, have sparked a wave of panic buying around the country, leaving many urban shops empty of basic goods that were already in short supply as a result of the country's eight-year recession. Long petrol queues have resurfaced in the capital Harare, and hordes of shoppers sometimes lay siege outside supermarkets in the hope of new deliveries of sugar, cooking oil and bread - the most desired products. A Reuters correspondent saw dozens of shoppers jostling outside a shop in the city centre after rumours that a bread delivery van was on its way. "I have to buy because I didn't get any yesterday," one man said. "And now when I have any money I am in the habit of buying anything that I think I
need because there is no guarantee that these things will be available in the future," he added. Zimbabwe's central bank has increased the daily cash withdrawals that
individuals and companies can make from Z$1.5m to up to Z$20m to help people cope with the rocketing inflation. Private economists say the actual figure is probably double the reported government rate of 4'500% for May. Critics accuse Mugabe, who has been in power since 1980, of mismanaging what was once one of Africa's most prosperous economies and suppressing political dissent. The 83-year-old Zimbabwean leader denies he has run the economy into the ground, blaming the problems instead on what he calls sabotage by Western opponents who are punishing him for seizing and redistributing White-owned farms to Blacks.
- Reuters Report - July 11, 2007
---
In Mugabe's Zimbabwe terror is so endemic that not even the daughter of a former prime minister known as a supporter of Black rights is immune from rape. Judith Todd's father, Sir Garfield Todd, was Rhodesia's last liberal leader and she was imprisoned, force-fed and exiled under Ian Smith's rule for her efforts to promote Black majority rule. She returned to head a development agency working particularly with the [terrorist] war veterans who had fought for [Mugabe's] Zimbabwe. But when she criticised Mugabe's regime she was detained and raped by a senior army officer. It was, she said, an example of the culture of fear used to preserve Mugabe's rule.
- Daily Telegraph, July 9, 2007
[ We await Ms. Todd's admission of her grave errors in siding with such evil terrorists during the 1960s. - Ed.]
---
Zimbabwe's beleaguered currency has lost half its value in three days, black market dealers said last night, prompting predictions that the country was plunging into an economic meltdown that its veteran leader Robert Mugabe would not survive. According to the government in Harare [Salisbury], one US dollar is worth 250 Zimbabwean dollars. But the free market rate yesterday reached more than Z$300,000 to one US dollar. "It's gone crazy," said one illegal trader. "People are holding out for the highest bidder and mentioning as much as 400,000-1, which could be tomorrow's price. It's changing by the hour. Rates have doubled since the start of the week." While Mugabe's demise has been predicted time and again over the years, analysts believe that the financial crisis now threatens his hold even on the loyalists who have kept him in power for so long. John Makumbe, a senior lecturer in political science at the University of Zimbabwe, said: "It is the economy that is going to bring the regime down. "I don't think it's very sustainable. Right now the transport sector is grinding to a halt. A lot of people are now in abject poverty. With a million dollars you will be lucky to buy two or three items." A six-mile minibus ride into the city centre could cost a tenth of someone's monthly wages, he said. "I don't think Mugabe will last long if the situation is not arrested by an injection of foreign currency or some alleviation of the cost of living." Christopher Dell, the outgoing US ambassador to Zimbabwe, predicted inflation could reach 1,500,000% by the end of the year. He told the Financial Gazette in Bulawayo: "The first phase of Zimbabwe's liberation [from Mugabe's rule] is coming to an end as the economy is collapsing around us and the second phase to define the future of Zimbabwe past a few old men is coming in the next few months." Splits are now emerging in Mr Mugabe's ZANU-PF party and last week a "coup plot" was proclaimed by the authorities, who charged six people with treason. One of the defendants said the accusations were an attempt to cover up internal divisions. But on top of its abysmal handling of the economy, which has been shrinking for the last eight years, the Harare government itself bears direct responsibility for the collapse of the currency. While accusing Britain and other countries of seeking to destroy Zimbabwe's finances, the central bank has printed vast amounts of Zimbabwean currency to buy illegal dollars in a desperate attempt to pay off the foreign debts of state-owned fuel and electricity companies. More notes have been printed to pay salary increases for soldiers and policemen, even as senior ZANU-PF officials were able to buy US dollars at the official rate and resell them at vast profit. Last month the Central Statistical Office announced that inflation had reached 3,713.9% a year in April - a calculation of unusual precision for an economy in chaos. According to NMBZ Holdings Ltd, a local bank, the figure for May had risen to 4,530%. Other estimates put it as high as 9,000%. The official Chronicle newspaper yesterday blamed Britain and the United States. "The plan is to topple the government before the March 2008 general elections, which the West knows the opposition could never win," it said.
- Daily Telegraph, June 22, 2007
---
Mugabe has been told by his own intelligence chiefs that he will lose if he sticks to his insistence on standing again in Zimbabwe's presidential elections next year. The 83-year-old, who has ruled Zimbabwe since 1980, was given the warning last month. He is said to have been livid. Happyton Bonyongwe, Mugabe's intelligence chief, told the president that voters were so disenchanted with his government that he faced "grave embarrassment". Bonyongwe presented a report compiled by the intelligence services warning Mugabe to find an alternative candidate to represent the ruling ZANU-PF party, as he would be defeated and gravely embarrass himself because of levels of social discontent that have reached boiling point. The report was presented to a meeting of the joint operations command, which brings together senior representatives of the police, army, prison service and the Central Intelligence Organisation. It said support for the president was at rock bottom because of severe economic crisis, with ordinary Zimbabweans struggling to survive in the face of inflation of more than 3,700%, unemployment at 80% and shortages of basic foodstuffs and fuel. "Mugabe said he was not giving up on next year's polls as this would be a victory to our colonisers [Britain], who want to rule us using their puppets in the MDC," said one of those who attended the meeting.
- Sunday Telegraph, June 10, 2007
---
Despite an undertaking from Peter Chingoka, the then interim chairman Zimbabwe Cricket , that the report on the investigation of charges of financial maladministration would be made public, no one apart from ZC and ICC have seen it. Chingoka announced sixteen months ago that an independent auditor "of international repute" would be asked to undertake a thorough investigation of the board's affairs following serious allegations from a number of stakeholders that large sums of money were unaccounted for. However, the audit was ultimately entrusted to Ruzengwe and Partners, a small Harare-based outfit. And the terms of reference were drawn up by the interim board, the body at the heart of the allegations. "Their report will be there for all to see," Chingoka said at the time. Unfortunately, although the initial report was delivered to the ICC in November, nobody outside the ICC and ZC has been allowed to know what it contains. Few expected anything sensational. When the audit was announced, Clive Field, the former players' association chief executive, was sceptical. "In the time which has passed since these issues were highlighted last year, it seems to me there would have been ample opportunity to sanitise the books," he said. "All we could originally hope for was that the audit was done quickly. "A senior administrator said that ZC had "appointed a small one-partner local firm who had little chance of investigation the affairs as it was too complex. It would need the assistance of an international firm, as funding included sponsorship worldwide ... as the rights to the various tours would have been put together and sold by Octagon CSI and others and would need the international resources to follow through the paper trail and establish where the funding ended up." The ICC remains tight lipped, only saying that Sir John Anderson, the chairman of New Zealand Cricket who is overseeing the process, is still in dialogue with Ruzengwe and Partners. It is hoped that things will be sorted in time for the ICC's AGM at the end of June. What the ICC cannot say is whether the audit will be placed in the public domain. Against this backdrop of secrecy, Zimbabwe Cricket's coffers are about to swell by another US$11.5 million from the World Cup. Given the virtual total secrecy with which ZC operates, the ICC owes it to the game, to all those who worked tirelessly to build Zimbabwe cricket, and to the thousands of local cricketers who are scraping by with almost no equipment, to make public the report. We were unable to obtain any response from Zimbabwe Cricket. The board refuses to answer any questions from Cricinfo as it objects to our coverage of cricket in the country.
- CricInfo, May 31, 2007
---
Zimbabwe is back at another crucial junction in its short history. At home the economic and political crisis intensifies by the day. Inflation in April was probably over 8,000% year on year, the currency has slipped to new lows and is trading about 30,000 to 1 against the US dollar. Severe food shortages are evident and prices have skyrocketed.
- report sent by Eddie Cross (Bulawayo), May 12, 2007
---
Pressure is growing for the ICC to take action against "Zimbabwe Cricket" from an unlikely, and usually low-profile, group - the game's statisticians. Until this year, despite increasing reporting restrictions, the Zimbabwe board, aided by dedicated volunteers, has always supplied scorecards of first-class and List A matches to the media. But many of the old statisticians have been driven away, while others have been ostracised by the board. Last year there were increasing problems with the accuracy of the data, and often queries had to be flagged with ZC when cards did not add up or data was missing. These were almost always resolved. However, this year ZC has failed to supply any data, even to its domestic media or on its own website, which is increasingly inaccessible and which has not been updated for several weeks. No cards have been provided for Faithwear Cup matches, the country's List A competition, which took place more than five weeks ago. A source close to the board said that it was unlikely that they would be made available as in some instances the cards had been lost, while in others the data was so poor as to be almost unusable. "Releasing them will be more than embarrassing," he admitted. Cricinfo has made several requests for the information, and the ICC and the influential Association of Cricket Statisticians and Historians have also contacted ZC. In almost all instances, the board has failed to even acknowledge the mail. A few cards for the Logan Cup, the first-class competition, have been obtained, but in every instance this has been through volunteers or Cricket Kenya, who have a side in the competition. This will be the first season in the 103-year history of the tournament that scorecards have not been available. The board only published the fixture list on the morning of the first round of matches. Bill Frindall, the BBC statistician, told Cricinfo that "this situation sadly comes as no surprise". He added: "The ICC should threaten ZC with suspension of their membership and the withdrawal of first-class and List A status. They should also withhold Zimbabwe's 2007 World Cup fee which is bound to end up in the hands of their puppet administrators. No doubt the ICC will prevaricate as usual. What a pity those ludicrous multi-national matches of 2005 [the ICC Afro-Asia Cup and Super Series] were not staged in Harare. The scores would have been lost forever. It highlights the growing shambles that is ZC," one administrator in Zimbabwe, who did not wish to be named, said. "They can't even sort the basics, so it doesn't take too much imagination to work out what a complete mess other things it is responsible for are. The game is dying on its feet. If people don't even know that matches are happening locally, what hope is there?".
- Cricinfo, May 9, 2007
---
Mugabe declared yesterday that he had overcome alleged British-backed efforts to topple him. Mugabe, 83, described the opposition Movement for Democratic Change as "the shameless local puppets" of a British conspiracy. Earlier he said a two-day general strike called by unions this month was part of "the offensive of [Tony] Blair's final push". "The man is about to retire and wants a last push in Zimbabwe," Mugabe told hundreds of children and teachers during a speech. He said that Britain wanted to make Zimbabwe a colony again.
- Daily Telegraph, April 19, 2007
---
Zimbabwe is to set up a new radio station to counter what it perceives as propaganda from outside countries against Robert Mugabe, the country's president. Zimbabwe's information minister made the announcement after talks on Friday with Rasoul Momeni, Iran's ambassador to Harare [Salisbury], in a deal to
refurbish public broadcasting studios in Bulawayo. Iran has already funded the upgrading of studios in the capital, the new station will cost $39.6m. In the face of growing criticism of his human-rights record, Mugabe has in recent years increasingly turned to other countries, including Iran, for help.
- report sent by Bob Vinnicombe, NSW, Australia, April 8, 2007
---
Young women used iron rods to beat pleading grandmothers and called them whores, while a policewoman shouted "Now go for the heads!" This is how a prayer meeting in Harare [Salisbury], Zimbabwe, turned into an "orgy of violence", says William Bango, 53, a senior Movement for Democratic Change (MDC) member and spokesperson for party leader Morgan Tsvangirai. Bango told Beeld from his Johannesburg hospital bed how he, Tsvangirai and other MDC members were beaten with "unheard of cruelty" by Zimbabwean police on Sunday March 11. Bango described seeing a grandmother, 64-year-old Sekai Holland, repeatedly
hammered with a pole by young women who called her "one of Blair's whores". The assault took place at the Machipisa police station, where Bango and
other MDC activists were taken after police banned a prayer meeting in Highfield township. "We were ordered to lie on the ground. Then the orgy of violence began, with the usual accusations that we were the puppets of Tony Blair and the Whites, and that we wanted to give our land back to the colonialists." The beatings lasted for three-quarters of an hour. They even dragged Tsvangirai from his idling car, and began hitting him. The woman in charge shouted: "Now the ribs! Now the buttocks! Now go for the heads!" Ironically, Zimbabwe was sliding back steadily to the "iron age" just as South Africa was getting ready for 2010 Soccer World Cup, he said. "But South Africa can't exist as a supermarket in the desert. The entire tournament will suffer if there's a thug in the neighbourhood."
- Beeld, April 4, 2007
---
Today the Rand went over 3,000 to 1 [to the Z$], the US$ went to over 30,000 to 1 and the price of beer, bread and fuel doubled. I raised our salaries by 50% two weeks ago and I am going to have to find another 100% next week. People cannot afford even the basics, money has no value and everybody is talking about prices and the specter of economic collapse. The government simply does not know what to do next - a 400% salary increment to teachers is now virtually wiped out just weeks later. They have imposed price controls only to find that market prices have soared to, in some cases, 5 times the so-called controlled price (bread is now about Z$4000 a loaf - the controlled price is Z$825) even though the latter was fixed just two months ago. When the State tries to enforce prices on traders, the product just disappears overnight. I have not seen a bottle of vegetable oil in 4 months. The only product that is occasionally available is imported from South Africa. State institutions are not able to move with the kind of speed that is needed to survive in this situation. All of them are reeling under the strain - foreign exchange is unobtainable except on the parallel market and there the prices rise daily. They cannot generate enough local currency to pay for the currency they need - and it has to be in cash. Maximum withdrawals from the banks are Z$1 million - that is not enough to fill your tank at Z$17,000 or Z$18,000 a litre. The total collapse of these institutions is now almost inevitable - they simply cannot pay their bills and cannot buy the essentials they need to operate. People must be close to saying that it is simply not worth their while going to work. I run a retail operation and have watched my sales rise from about plus 1000% up at the start of last year to 4,800% this month. That just about tracks the sort of inflation that ordinary people now face in their daily lives. In this situation we must remember that this affects everybody. Pretty soon we are going to face complete stock outs of essentials and only those who have foreign exchange will be able to get them. The quality and delivery of all services is about to crash.
- report sent by Eddie Cross, Bulawayo, March 23, 2007
---
At long last, President Robert Mugabe's stranglehold on Zimbabwe may be loosening. Throughout his 27 years of dominance, the old dictator's opponents have always risked assault, torture or worse. The bludgeoning meted out to Morgan Tsvangirai, the opposition leader, and about 100 of his supporters after they tried to hold a prayer meeting on Sunday, was entirely standard. Violence of this kind has been enough to suppress Mugabe's critics outside the ruling ZANU-PF party. Meanwhile, his skilful manipulation of factions within the ruling party has always thwarted any internal challenge. But there are growing signs that Mugabe is finally losing his grip. Never in its 44 year history has ZANU-PF been as divided as it is today. Mugabe appears to be in a state of open warfare with both his party's main factions. One is led by Solomon Mujuru, a retired general and former army commander who wants his wife, the vice-president Joyce Mujuru, to succeed Mugabe. The other major faction is dominated by Emmerson Mnangagwa, who has served in the cabinet since 1980 and was once a favourite for the succession. But he had a spectacular falling out with the president. In the past, Mugabe always would have been clever enough to ally with one faction against the other. At the very least he would have turned them against one another and kept each permanently off-balance. But today, both the Mujuru and Mnangagwa groups appear to have become united against him. There is no other explanation for Mugabe's apparent failure to extend his term of office. Last year, he announced that he would not bother seeking re-election when his present term ends in 2008. Instead, he would simply amend the constitution and postpone the next election until 2010. But this proposal seems to have been dropped. Both major factions have an interest in Mugabe stepping down next year and opening the way for their champions to seize the presidency. They appear jointly to have thwarted the bid to rewrite the constitution. Having been defeated, Mugabe is now talking about standing for re-election next year. Two factors are eroding Mugabe's position every day. First, he is 83 and his mental powers are visibly failing. While physically fit, the edge has come off Mugabe's mind. Second, Zimbabwe's economy is in meltdown. At first, this national calamity did not threaten his grip on power. On the contrary, by driving the black middle class out of Zimbabwe and leaving the rest of the population destitute and with no thought except day-to-day survival, economic collapse probably reduced the chances of popular unrest and helped Mugabe. But the crisis is reaching such proportions that the Zimbabwean state itself is disintegrating. Mugabe can no longer afford to pay his security forces. The police and the army rank-and-file are just as desperate as everyone else. This combination of discontent within and without ZANU-PF is unprecedented. Mugabe's final days may be upon us.
- Daily Telegraph, March 14, 2007
---
The conditions Mugabe rendered in Zimbabwe do not merely stem from idealistic economic and social policies gone awry. He has undertaken a campaign of violence and starvation against political opponents, the fallout of which is killing tens of thousands, if not more, every year. In 2005, there were roughly 4,000 more deaths each week than births, a rate that the famine has surely increased. As early as 2002, the BBC was reporting that people in Matabeleland, the southern region of the country where the minority Ndebele tribe lives, were starving. That same year, on the eve of a massive drought, the Minister of Zimbabwean State Security said, "We would be better off with only six million people. We don't want all these extra people." Today, according to the World Food Program, 38% of Zimbabweans are malnourished. The fallout has rippled through society: Zimbabwe has the world's highest inflation rate (1,600% annually, expected to hit 4,000% by the end of the year) and an HIV prevalence of at least 18%, and probably higher. It also has the lowest life expectancy, by far, in the world: 34 for women and 37 for men. Last year, 42,000 women died from childbirth. The weekly death rate exceeds Darfur's.
- The New Republic, March 3, 2007
---
The situation in Zimbabwe has deteriorated sharply in the past few days. The government has imposed a ban on public meetings, the strikes are continuing with the state- run hospitals now completely paralysed. Doctors and Nurses refuse to go back to work. The universities are due to open on Monday but staff are on strike and there are no signs of compromise. Students plan to join the strike on Monday in support of their lecturers and demanding attention to the stark conditions under which they are living. The ZCTU has announced a national strike in a month's time and the State Security Minister has threatened them with dire action. Now a form of curfew is being imposed on the high-density townships across the country in an effort to bring the situation under control. These are clearly signs of panic in the realms of government. Tomorrow should be the start of a 4-month freeze on prices and wages - however I understand the proposal has been abandoned as being simply unworkable. No statements are forthcoming from the authorities and, to say the least, there is considerable confusion in business and Union circles. The Governor of the Reserve Bank speaks of a "Social Contract" but none exists. However the most serious indicator of collapse is in the open market price of foreign exchange. Driven by the frantic efforts of people to buy foreign exchange in any form for a variety of needs from education fees to water chemicals for the cities and those who want to externalize or even protect their assets. No one wants to hold local money - and the options are the stock market, foreign exchange and assets such as property or simply business stocks. Today was no exception - the US$ went to 7,500 to 1, the Pound to 14,200 to 1 and the Rand was at 1,100 or 1,200 to 1. These are dramatic devaluations in a matter of a few days and importers simply do not know what to sell their imported products for when it comes to replacing their stock. Fuel distributors closed their outlets today while the adjusted to the new situation. We bought fuel at Z$6,600 and watched as the company ratcheted up its price to Z$7,500 while we were present. That seems to be the price at the moment. Bakeries are all over the place - most are charging double the "controlled" price. This means a new surge in inflation and it is now clearer than ever that the government has lost all semblance of control in the economy. Gold sales are declining even more rapidly as mines close down in the face of unrealistic prices and exchange rates. Food is now being imported to meet all our basic food needs - local stocks are exhausted. I watched a special programme last night on SABC about the plight of the border jumpers. Anyone watching that could not help but be moved by the plight of the people affected by this crisis in Zimbabwe. To see them risk crocodiles, armed gangs, the SA Police and Army and thirst and exposure to get away from Zimbabwe and try to make a living, any sort of a living, in South Africa was heart wrenching. A White farmer described finding a dead woman next to a game fence with a baby that had lived for 3 or 4 days after the mother had died of exposure. If someone with power does not do something to get this situation back under control, they better prepare for a real flood of refugees into South Africa - because the situation in Zimbabwe is simply no longer tenable.
- report sent by Eddie Cross, Bulawayo, February 28, 2007
---
Inflation in Zimbabwe has reached such proportions that it destroyed the value of a new national currency before a single one of its banknotes had been spent. The world's highest inflation rate, which rose to a record 1,594% yesterday, rendered the new money worthless before it could be distributed. Mounds of banknotes - all paid for in scarce hard currency - are lying unused in warehouses. Mugabe's regime ordered the new money from a German company in 2004. At the time inflation was a relatively modest 400% and Mugabe was anxious to avoid the impression of economic chaos. Jonathan Moyo, then information minister, disclosed that Mugabe personally insisted that a banknote of 1,000 Zimbabwe dollars could be the highest denomination of the new currency. Yet by the time the new currency had been designed, printed and delivered Z$1,000 had a purchasing power of about nine pence. Today it would be just enough to buy a box of matches. Rather than release a currency whose largest banknote is roughly the value of one tomato, the Reserve Bank in Harare [Salisbury] simply stockpiled the useless money. At present prices in Zimbabwe are doubling roughly every 30 days. By next month the new currency's largest banknote will be worth about half a tomato.
- Daily Telegraph, February 13, 2007
---
It is now certain that 2007 is going to be much worse than 2006. Inflation is going to be higher, the economy will almost certainly shrink - for the 9th year in a row and the flood of economic refugees into other countries will, if anything get worse. Shortages will be more widespread and this will create additional problems for those of us who live here. I predict that the coming agricultural season will be much worse than in the past year. Output across the board will be lower - without exception. Then there is the situation in ZANU-PF. Mugabe is no longer functioning effectively as Head of State - he is working very short hours and for whatever reason is already in a state of semi-retirement. He has moved to his new home in Harare [Salisbury] and goes into the office late in the morning returning home before mid-day. Few people are seeing him and it is clear that government is confused and divided - no strong central direction is apparent. Everybody is doing his or her own thing. Then there is the succession debate. Rumours abound about Mugabe's future plans - they all point to him stepping down and it would appear from our sources that the debate on whether to allow him to remain President until 2010 has been quashed. It would appear to us that he is now committed to retirement in March 2008, if not sooner. A recurrent ZANU-PF nightmare is that he might become incapacitated sooner than March 2008, leaving ZANU-PF unprepared for the succession battles that will follow.
- report sent by Eddie Cross, Bulawayo, October 28, 2006
---
| | |
| --- | --- |
| A scene from the Rhodesian Pioneer Club's highly successful 2006 July Braai, which was held at their new home in Trentfield, Nottinghamshire, on the banks of the River Trent. The July Braai fulfils three roles; firstly it's a great weekend for everyone involved, secondly it's a huge fund-raising event for charity work, which as the situation in "Zimbabwe" deteriorates ever deeper will become all the more important, and finally it is a chance for everyone who had to leave their beloved homeland, to re-kindle the spirit and brotherhood of the Rhodesian nation, and ensure that it is not lost on the future generations who will now be raised overseas. | <![if !vml]><![endif]> |
---
Zimbabwe's prisoners face acute food shortages and are going weeks without soap or toilet paper, reported a parliamentary committee on Friday. Some inmates have resorted to using pages ripped from Bibles to wipe themselves clean, said the report, which sounded the alarm about deteriorating prison conditions amid Zimbabwe's worsening economic crisis. The report found that malnutrition and disease were widespread in Zimbabwe's overcrowded jails, designed for 16 000 people but holding many more. Prison authorities have insufficient funds to buy food, which lead to the spread of malnutrition-related ailments such as pellagra, intestinal disorders and mental disorientation. Water and power outages were also common, said the committee, and sanitation facilities were in urgent need of repair at most facilities. The report said blankets in the prisons go unwashed for months. The Harare [Salisbury] Remand Prison had its water supply cut off for failing to pay its bills. Cooking pots and other kitchen implements at the prison were filthy and "not fit to carry food for human consumption". When Chikurubi maximum security jail ran dry, water was ferried in by chain gangs wielding buckets, said the committee, but 73 inmates had diarrhea as a result of the shortages.
Zimbabwe's economic meltdown has been blamed on disruptions to the agriculture-based economy, linked to years of drought and the seizure of thousands of White-owned commercial farms for redistribution. Inflation is at 1043%. There are acute shortages of hard currency and petrol. The report found that prison authorities could often not take inmates to court for scheduled bail hearings and trial appearances because they did not have petrol. According to the report, five of the eight vehicles belonging to the Harare [Salisbury] Remand Prison had broken down and could not be repaired due to a shortage of spare parts. Few of Zimbabwe's families could afford to pay the bail of more than $Zim 200,000, leaving many of the accused to languish in jail, said the report. Delays in the court system also meant some prisoners remained in custody for more than five years.
- www.news24.com, June 9, 2006
---
<![if !vml]>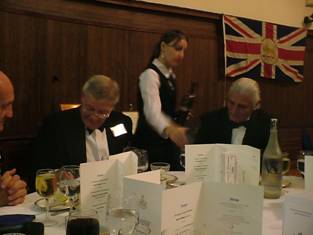 <![endif]>
A contingent of 40 members of the Rhodesian Services Association attended the ANZAC Day parade with the Hobsonville RSA (Returned Servicemen's Association) in Auckland, New Zealand recently. ANZAC day is the local equivalent of Poppy Day and there were hundreds of memorial parades all around Australia and New Zealand. Hobsonville RSA invited the Rhodesian group to join their parade some ten years ago, and attendance has been growing ever since. A wreath was laid commemorating all Rhodesian's contribution in not only the two world wars, but in many subsequent conflicts in various parts of the world.
- report sent by John Pringle (New Zealand), May 10, 2006
---
The average Zimbabwean woman is dying at 34, according to figures released on Friday in the World Health Organisation (WHO) annual report for 2006. Zimbabwean men can expect to live only to 37. While the WHO linked the shocking statistic to the high incidence of HIV-Aids, many doctors complained that it was also because of the collapse of the health system in Zimbabwe, which is struggling through its worst political and economic crisis. "The life expectancy for women in Zimbabwe is not only about HIV-Aids. Many women are dying during pregnancy, or during or after delivery. It is shocking," said Peter Iliff, a doctor and a member of the Zimbabwe Association of Doctors for Human Rights. The report, based on figures available for 2004, said that in a single year Zimbabwean women's had become, on average, two years shorter. Mugabe's policies have seen the country's economy shrink by more than 40% in the past six years and inflation has soared, becoming the highest in the world. The price of bread rose by 60% overnight on Friday after official statistics confirmed that inflation was close to 1,000%. Zimbabweans battle with chronic shortages of food, fuel and foreign currency, and with a crumbling infrastructure and the poor medical services highlighted by the life expectancy figures.
- Sunday Telegraph, April 9, 2006
---
In one hand Frank Wiggill holds his monthly pension statement and in the other a 500 gram packet of salt. It is the only thing in the supermarket that his pension will buy, unless he prefers to splash out on two eggs. When Wiggill retired after 38 years as an engine driver on the Zimbabwean railways, he looked forward to enjoying his twilight years in comfort. Instead he and his wife Jeanette depend on monthly food parcels from well-wishers and handouts from their son in South Africa. The collapsing currency combined with the world's highest inflation - estimated at more than 1,000% a year - has cut their pension to 13p a month. "It's embarrassing," said Wiggill, 79. "I worked all my life and here I am living on food parcels of milk powder and toilet paper." His monthly pension of Z$49,000 is less than the cost of a newspaper (Z$50,000) or a loaf of bread (Z$70,000). It would take him two months to buy a pint of milk (Z$89,000) and nine months to afford the cheapest pack of four toilet rolls (Z$440,000). "The pension is a laugh," he said. "It must cost them Z$25,000 to post the statement." This month the Wiggill's received nothing. Deductions for three items on prescription (Z$30,000 a time) after Wiggill cut down a cactus and got poisonous sap in his eye left him Z$41,000 in debt to the pension company. At the same time the monthly rates on his bungalow have increased to Z$679,124. Water and electricity are extra.
- Sunday Times, March 26, 2006
---
At least 15 men have been arrested by Zimbabwean police amid allegations of a plot to launch an armed rebellion against President Robert Mugabe. A cache of weapons was reportedly seized and those held included some senior officials of the opposition Movement for Democratic Change. An MDC member of parliament Giles Mutsekwa, a former officer in the Zimbabwe National Army, and Brian James, the treasurer of the MDC's Manicaland province, in eastern Zimbabwe, were arrested last week. Roy Bennett, a former opposition MP, who spent six months in prison last year, has been named by police as being "wanted for questioning" in connection with the alleged plot. Police claim they unearthed a cache of weapons in Mutare [Umtali] and linked the haul to a Britist-based group, the Zimbabwe Freedom Movement, which the authorities claim has strong ties to the MDC. A clutch of automatic rifles, AK47 rifles and some weapons more than 40 years old were allegedly found, along with thousands of bullets and a two-way radio system at the Mutare [Umtali] home of Michael Peter Hitschmann, who police said was a member of the ZFM. Mr. Hirschmann, who claimed to have served in the Rhodesian Army during the 1970s Bush War, is alleged to have made a confession to police about the ZFM, its members and links.
- Daily Telegraph, March 10, 2006
---
The corpses of at least 20 newborn babies and foetuses are found each week in the sewers of Zimbabwe's capital, some having been flushed down toilets, Harare [Salisbury] city authorities said, according to state media yesterday. Town Clerk Nomutsa Chideya said the babies' remains were found among a wide variety of waste and garbage cleared by city council workers unblocking sewers and drains in Harare [Salisbury]. "Apart from upsetting the normal flow of waste, it is not right from a moral standpoint. Some of the things that are happening now are shocking," the Herald, a government mouthpiece, reported Chideya as saying. Acute shortages of revenue and petrol in the nation's worst economic crisis since 1980 have crippled public utilities and garbage collection services across Zimbabwe. Hospital fees and charges for scarce medicines have soared. Church and charity groups blame economic hardships for an increase in back-street abortions. Inflation is running at 613%.

Associated Press report, February 18, 2006
<![if !supportLineBreakNewLine]>
<![endif]>
---
Mugabe has reversed his land policies and has offered some white farmers their land back. With the fastest-shrinking economy in the world, Mugabe has had to backtrack on six years of chaos and his own determination to rid Zimbabwe of all White farmers. At the beginning of 2000, in an orgy of violence, Mugabe seized the land, homes, equipment and infrastructure of about 4,000 White commercial farmers who produced nearly half Zimbabwe's foreign currency. In the process Mugabe rewrote property laws, changed the constitution and nationalised more than 20 million acres. About 1,5 million people lost their homes and jobs. The economy collapsed and continues to contract, while inflation powers towards 1,000%. The ruling ZANU-PF's all- powerful politburo has been informed and selected journalists in the state-controlled media have been briefed on how to spin the dramatic policy reversal. As of now, so the new policy goes, the 5% or about 250 remaining White farmers still on small portions of their land will immediately be offered state leases for their own land. Some will be hoping that their full land holdings will be restored as a second stage. Then the leases will be extended to some farmers who have already been evicted, particularly where there is no activity on that land. Some fled to Britain, Australia, New Zealand or South Africa. The government will admit, in the next few days, that it has only used about 50% of the land it seized. In reality, land economists say nearer to 80 to 90% of the land is lying idle. In anticipation of this change of policy, the Commercial Farmers Union - which has already advised some members to apply for leases - issued a rare statement calling for a "moratorium on land and agricultural policies". It said all those in agriculture should get together and "rebuild the entire industry to return as the principal employer of labour and generator of food and foreign exchange. We have the energy and capacity to help bring Zimbabwe back once again to be the bread basket of the sub-continent". Behind closed doors last week, the International Monetary Fund told Finance Minister Herbert Murerwa that land seizures should halt immediately and that without increased agricultural production there was no chance of halting Zimbabwe's slide. But some white farmers are cynical. "The government vastly underestimates the damage of its insane polices," said one of Zimbabwe's former top cereal producers. "They probably believe that allowing some of us to return will turn the economy around in a single season. We won't be able to do anything without international finance, and we won't get that until there is political reform," he said.
- Cape Argus, February 9, 2006
---
The effective nationalisation of Zimbabwean cricket in Harare [Salisbury] has further damaged their Test credibility and, according to the players, carries ominous similarities with the demise of farming. The government dissolved the Zimbabwe Cricket Board, setting up an interim panel for six months, and they announced a cull of administrators along racial lines. Gibson Mashingaidze, an army brigadier and chairman of the Sports and Recreation Commission, said that he was unconcerned about the possible repercussions. He said that White and Asian directors were left out for "their racial connotations and having their own agendas and not government policy". The brigadier, speaking on behalf of the sports minister, added "We're prepared to be chucked out of the Test status. The government are saying we are starting afresh. We are not bothered. Those who want to stay in can stay, but those who want to go are free to go. They can go to India, Canada or wherever. We are not bothered." Clive Field, the Zimbabwe players' representative, said "This smacks of what happened on the farms. The government said they would simply re-populate the farms with new farmers. They didn't have the technology, they didn't have experience, they didn't have capital. Look where our farming is now: we're importing food. I think cricket will go along the same lines very quickly." Field said that he expected players to leave the country in droves. "It might be the end of cricket [in Zimbabwe], because you can't just produce cricketers out of a hat. The senior guys aren't happy with what was said today, and the more junior players don't see a future in the game here."
- Daily Telegraph, January 7, 2006
---
| | | |
| --- | --- | --- |
| The Hon. Ian Douglas Smith being awarded with the Order of the Flame Lily. The citation on the scroll reads: "... in recognition of his upholding of the ideals upon which the nation of Rhodesia was founded; his courageous leadership in the face of adversity; his wisdom and statesmanship in the transition to international acceptability; and his care and concern for the people of Rhodesia to this present day." | | <![if !vml]><![endif]> |
The big Rhodesian-Zimbabwean Reunion opened at the Shamwari Club near Hillcrest in Natal with a flag raising ceremony on Sunday 6th November 2005. The skirl of bagpipes drew the crowd to the flag staffs, where representatives of the former Rhodesian security forces raised the flags of Southern Rhodesia and Rhodesia. When the bagpipes ceased, the bugler sounded the reveille for the opening of this momentous week, as the rain started to pelt down. At the lunch, people met old friends - some for the first time in many years. Monday saw the usual crowd at the bar, as people started to arrive from all over the world. By Tuesday celebrations were in full swing with the "English Pub Evening" in true English style, and entertainment being provided by Tony Darrell and his band. Wednesday morning was beautiful and clear - ideal for the few staunch fishermen who rallied at the Inanda Dam for the bass fishing competition. By breakfast - bacon, wors, eggs and rolls - not many fish had taken the worm. However, by the second session these well seasoned fishermen started to catch large mouth bass, but none weighed so much as a kilogram. As usual many large ones got away! Still, it was an enjoyable day, which ended with a couple or more chibulies at cut off time. That evening a John Edmond Concert was held, with John live on stage, accompanied by his lovely wife, Teresa, working the instrumental backing. Songs old and songs new, mostly about days of yore, had the folk singing and clapping. It was an evening filled with nostalgic memories of Rhodesia for the more than 400 people present. On Thursday morning the reunion golf day was held, and was a great success. Johnny Haswell entertained with his humour during the prize giving. That afternoon John Edmond did a special show for the pensioners, some of whom were bussed in from afar, so that they could participate during daylight hours in the reunion. In the evening the BSAP Regimental Association gathered at the Tudor Rose Pub in Hillcrest while the usual crowd kept the Shamwari Club pub open till late. Friday the 11th started with the commemoration of UDI at 13.15 hrs. After replaying the address to the nation delivered by Prime Minister Ian Douglas Smith exactly 40 years previously, John Redfern proposed a toast to Rhodesia. In the evening the "Come as You Were" party took place. A couple of the 'young ladies' were dressed in their school uniforms from yesteryear – wearing their hair in pony-tails. One guy was wearing his camo with a Corps of Engineers stable belt and beret. Lew Lloyd-Evans wore his No.6 Rhodesian rugby jersey - albeit somewhat tight on him, and there were many others among the 600 people present who 'dressed for the occasion'. Needless to say, the evening was a great success. The pub did run out of Castle Beer and Coke for a short while, despite plenty of movement between the cold rooms and the bar all night long. People partied until 03.00 hrs the next day. Apart from the liquids, Erica and Roy provided tasty meals throughout the evening. Saturday started with a "Remembrance Parade" organised by the SAS Association, attended by approximately 400 people who gathering for a memorial service at this SAS Memorial at the Flame Lily Park in Malvern. Wreaths were laid by representatives of the various Rhodesian forces, as well as the British SAS, South African Special forces, and the Flame Lily Foundation. The lunchtime gathering at the Club was well attended, while preparations were in being made at the International Conference Centre for the Gala Dinner. Over 800 people sat down to an excellent meal, with a starter of line fish, followed by shank of lamb and ending with mango cheesecake. The speeches were exceptional, with Peter Rawson acting as MC. Richard Wood, with his excellent wit and dry sense of humour spoke on the security forces of Rhodesia; Ann Grant spoke on the women of Rhodesia, and provoked a tear or two; Doug Watson dealt with the sportsmen and women of Rhodesia, John Haswell closed with his own special brand of humour. Between the speeches and during the meal, the building of Kariba and scenes from Rhodesia were displayed on the big screen. John and Mary Redfern were presented with an award for their valued contribution towards the interests of Rhodesians over the past two decades, and John Edmond was made a Member of Honour of the Flame Lily Foundation in recognition of outstanding support in furthering the objects of the Foundation, and his dedication in "keeping the flame alive" by bringing Rhodesians in various parts of the world together. After the speeches, John Edmond entertained the audience with his songs and music that put them in dancing mood for the rest of the evening. Between dances, SAS group photographs were taken and some RLI veterans tried their best to entertain the crowd with their rendering of "When the Saints Go Marching In". The closing ceremony on Sunday the 13th was well attended, with the lowering of flags to the strains of the Last Post, and the Rhodesian National Anthem being played on the bagpipes. The consensus was that it had been a great week, as words of appreciation were declared to all those involved in the organisation. The event ended with the raffle of an iced fruit cake in the shape of Rhodesia, donated by Pet Bester, and the issuing of other wonderful prizes.
- report by Liz Archibald of the Rhodesian Association of South Africa Durban Branch, November 2005
---
| | | |
| --- | --- | --- |
| <![if !vml]><![endif]> | <![if !vml]><![endif]> | <![if !vml]><![endif]> |
The UK Branch of the BSAP Regimental Association held their 58th Annual Regimental Dinner at the Victory Services Club in central London on Friday 30th September 2005, at which the Guest of Honour was General Sir Michael Walker GCB, CMG, CBE, ADC Gen., the Chief of the Defence Staff. Pictured above are [left] a scene at the top table. Seated from left to right are: Peter Phillips (Chairman of the UK Branch of the BSAP Regimental Association), General Sir Michael Walker and Barry Henson (BSAP Regimental Association representative from Cyprus); [middle] assembled members of the Association enjoying the sumptuous dinner, with some of the many Rhodesian flags on display in the background; and [right] General Sir Michael Walker with Alan Harvey, an official guest representing the Springbok Club.
---
If you have any latest Rhodesian news please email us

at :

springbk@netcomuk.co.uk