<![if !vml]><![endif]>

The History of

The Patriotic Forum

<![if !vml]><![endif]>
---
Although the name The Patriotic Forum was first used by a Neo-Imperialist organisation operating in Durban, South Africa, during the 1980s, the title was also subsequently used for umbrella events staged by a number of patriotic organisations in the UK during the 1990s and 2000s. In 2016 Mr.Dennis Delderfield, the founder and National Chairman of one of these movements, New Britain, suggested that an official merger between these constituent organisations should be enacted. Sadly Dennis Delderfield died later that year, but in early 2017 his wishes came to fruition when The Swinton Circle (which had earlier merged with The 343 Group) formally united with New Britain in order to form The Patriotic Forum.
---
The History of The Swinton Circle
The Swinton Circle was founded in 1961. Its original membership was composed solely of those who had attended Conservative Party training schools at Swinton Castle in Yorkshire, and who wished to maintain contact with each other through regular meetings in London. Although initially called The London Swinton Circle, as the organisation grew the prefix "London" was eventually dropped.
<![if !vml]>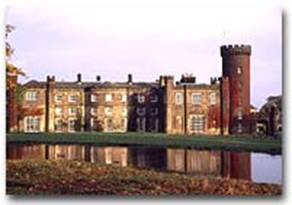 <![endif]>
Swinton Castle in Yorkshire, where the Swinton Circle had its roots
Subsequently, however, The Swinton Circle expanded its membership, and welcomed members from all backgrounds who supported traditional Conservative. Unionist and Neo-Imperialist principles (though membership by anyone associated with extremist organisations from either wing of the political spectrum were always prohibited), an expansion which came into effect in 1996 when a new constitution was approved. It held regular meetings in London (usually on a monthly basis) which mainly took place in the Houses of Parliament or at nearby Portcullis House. When Parliament was sitting speakers were invariably Conservative or Unionist (DUP, or, in the past UUP) MPs and Peers. When Parliament was in recess, however, a wider range of interesting guest speakers were featured, particularly those connected to EuroSceptic organisations and representatives from the core Commonwealth and British Overseas Territories. Once a year (usually in late summer or early autumn) the Swinton Circle held a special buffet evening, at which a prominent Guest of Honour was welcomed.
<![if !vml]>
<![endif]>
Swinton Circle stalwart Ian Newman (left) pictured with Douglas Carswell (right), the then Conservative and later UKIP MP for Harwich and Clacton, at the Swinton Circle's 2006 Summer Buffet where Mr. Carswell was Guest of Honour.
On 22nd July 2008 a severe crisis engulfed The Swinton Circle when a planned meeting of the organisation was gate-crashed by a small group of uninvited and unwelcome trouble-makers with known neo-fascist links, who had the clear intention of disrupting the meeting which was to be addressed by a leading member of the UK National Defence Association, whose views they were evidently opposed to. Thanks to the quick thinking of the then Chairman this potential problem was quickly defused, but it subsequently came to light that the erstwhile Organiser of The Swinton Circle had been in league with the trouble-makers. As a result all operations of the organisation were suspended for several months until an Emergency General Meeting could be staged. This EGM was eventually held on 17th January 2009, at which it was agreed unopposed that the erstwhile Organiser and two of his close associated should be expelled from The Swinton Circle. Although all were given 30 days to appeal against this decision none chose to do so. In spite of this severe setback The Swinton Circle survived, and normal regular activities were resumed later during 2009.
<![if !vml]>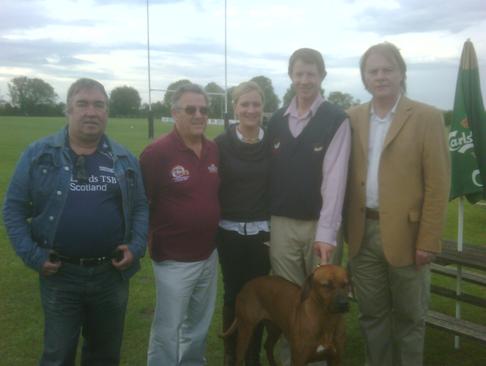 <![endif]>
Following the crisis of 2008, and the subsequentjection of more moribund elements, The Swinton Circle became a far more pro-active patriotic and neo-Imperialist organisation. As well as initiating a number of press-campaigns advocating policies which it espouses, The Swinton Circle also gave its active support to various events staged by like-minded organisations. In February 2009 a delegation of Swinton Circle members attended a "Freedom of Speech, Freedom of Expression" festival in Brussels, and in June 2010 The Swinton Circle was invited to patronise a special "Help for Heroes Day" at Aylesbury RFC. Being an uncompromising patriotic organisation The Swinton Circle of course did not hesitate to take up this opportunity to support British servicemen and women who have been injured in the War Against Islamic Terror in Iraq and Afghanistan. Pictured above are some of the supporters at the conclusion of this event.
The Swinton Circle was also involved in a number of single-issue campaigns, which included :-
<![if !supportLists]>1. <![endif]>Full support for Western forces fighting the War Against Islamic Terror in Iraq and Afghanistan etc.
<![if !supportLists]>2. <![endif]>Britain's withdrawal from the EU (which of course was successfully accomplished at the 2016 Brexit Referendum!)
<![if !supportLists]>3. <![endif]>A restoration of capital punishment for pre-meditated murder and high treason.
<![if !supportLists]>4. <![endif]>A campaign to abolish the BBC licence fee.
<![if !supportLists]>5. <![endif]>A campaign advocating the doubling of Defence spending.
<![if !supportLists]>6. <![endif]>Lobbying for subsidised holidays in Commonwealth countries for under-privileged British citizens.
<![if !supportLists]>7. <![endif]>A campaign to include One Mile events in future Olympic and Paralympic Games.
<![if !supportLists]>8. <![endif]>A campaign to initiate regular Winter Commonwealth Games.
| | |
| --- | --- |
| <![if !vml]><![endif]> | <![if !vml]><![endif]> |
In October 2005 a delegation of Swinton Circle members visited Gibraltar and Cape Trafalgar in Spain in order to celebrate the 200th anniversary of the Battle of Trafalgar. A wreath was laid on behalf of The Swinton Circle (pictured left) at the grave of Lieut. William Forster of H.M.S. Colossus, who fought at Trafalgar and who subsequently died of his wounds in Gibraltar, who is one of only two combatants from this battle to be buried in a marked grave at the Trafalgar Cemetery on the Rock (the other being Capt. Thomas Norman of the Royal Marines corps on board H.M.S. Mars.) All the events commemorating this important battle undertaken by The Swinton Circle were co-ordinated by the Gibraltar Heritage Trust, and fuller accounts of all such events both in Gibraltar and at Cape Trafalgar are detailed on the Latest Empire News web-site. In October 2008 The Swinton Circlewas most honoured to welcome Mr.Bob Vinnicombe, a leading official of the Australian One Nation party in Sydney as guest speaker (picture right – standing on left alongside Swinton Circle Chairman Alan Harvey).
| | |
| --- | --- |
| <![if !vml]><![endif]> | <![if !vml]><![endif]> |
<![if !vml]>

<![endif]>Perhaps the most successful and widely-publicised event undertaken by The Swinton Circle was a large conference/dinner held on 16th June 2012 in order to commemorate the 100th anniversary of the birth of John Enoch Powell. This event was actually held in conjunction with a number of other patriotic and neo-Imperialist organisations, and was one of the events where the umbrella title of The Patriotic Forum was used. Held appropriately in the Trafalgar Room of a prestigious central London club the conference side of proceedings featured four high-profile guest speakers: Mr. Roger Helmer MEP (who spoke on "Was Enoch right about the economy"), Mr. Roy Painter (who spoke on "Was Enoch right about immigration"), Mr. Michael Shrimpton LLB (who spoke on "Was Enoch right about Europe") and Mr. Andrew Hunter (who spoke on "Was Enoch right about Ulster and the Union"). The conference was followed by a sumptuous 3-course meal including roast beef and Yorkshire pudding - Enoch Powell's favourite dish! Pictured above are (left) one of the tables of attendees at the dinner, and (right) three of the guest speakers: Roger Helmer MEP, Roy Painter and Michael Shrimpton.
In October 2013 the Swinton Circle received the very great honour of being invited to provide a speaker to oppose the motion "This House believes that there is no place for the Death Penalty in the Rule of Law" in a debate being staged by the prestigious Philosophical Society of Trinity College, Dublin University. The Swinton Circle's executive committee chose the Chairman of the organisation, Mr.Alan Harvey, to represent the organisation in this debate, which proved to be a great occasion and raised The Swinton Circle's profile significantly.
---
The History of New Britain
The New Britain organisation was founded in 1974 by Mr.Dennis Delderfield, who for 18 years was a Common Councilman of the City of London and editor of The City of London and Docklands Times. Although New Britain initially tried to operate as a political party (and indeed obtained a fair amount of electoral success at local government level), it soon became obvious that its natural role was to operate as a patriotic pressure group, advocating an unapologetic pro-Unionist, EuroSceptic and Neo-Imperialist agenda.
<![if !vml]>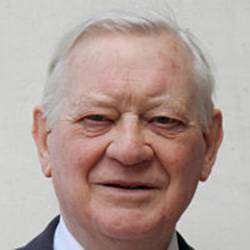 <![endif]>
The late, great, Dennis Delderfield
In order to emphasise its solidarity with the Commonwealth and Britain's overseas territories New Britain held annual events on the national days of the lands in question, most notably :-
<![if !supportLists]>· <![endif]>Australia Day each 26th January, when a ceremony was regularly staged at the statuette of Admiral Arthur Philip (the founder of Sydney and the first Governor of New South Wales) outside St.Paul's Cathedral.
<![if !supportLists]>· <![endif]>New Zealand Day each 6th February, when a short ceremony was once staged at the statue of Capt. James Cook in The Mall.
<![if !supportLists]>· <![endif]>Canada Day each 1st July, when a special event was once staged to pay respects at the grave of Gen. James Wolfe in Greenwich.
<![if !supportLists]>· <![endif]>Gibraltar Day each 10th September, when prominent Gibraltarians were regularly invited to address meetings.
<![if !supportLists]>· <![endif]>Falklands Battle Day each 8th December, when New Britain would regularly support the Falkland Islands Association's annual commemoration at the Cenotaph.
| | |
| --- | --- |
| <![if !vml]><![endif]> | <![if !vml]><![endif]> |
Left: A scene from New Britain's 2013 Australia Day celebrations at the bust of Admiral Arthur Phillip outside St.Paul's Cathedral in the City of London, Right: The Falkland Islands Battle Day commemoration service in 2013.
In addition, being a staunchly Unionist organisation, New Britain regularly celebrated the various saint days and other annual events associated with the component parts of the United Kingdom, when members and supporters of the organisation would attend events in the various capital cities, namely: St.David's Day in Cardiff, St.George's Day in London, Battle of the Boyne Day in Belfast and St.Andrew's Day in Edinburgh. In 2014, moreover, shortly prior to the Scottish Constitutional Referendum, New Britain organised a most impressive "Keep the United Kingdom United" demonstration in the City of London, which involved a march through the streets of the city followed by a festival of Scottish singing and dancing at St.Sepulcre's Church.
<![if !vml]>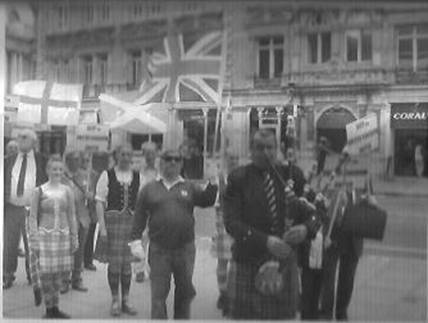 <![endif]>
The head of the procession at New Britain's massive "Keep the United Kingdom United" demonstration in 2014.
New Britain also regularly celebrated anniversaries associated with great Britons of the past. These included participation in the Royal Navy's annual Trafalgar Day ceremony at the tomb of Viscount Admiral Horatio Nelson in St.Paul's Cathedral, and a visit to Plymouth each year on the anniversary of the defeat of the Spanish Armada, where Dennis Delderfield would regularly play a game of bowls against the Lord Mayor of Plymouth on Plymouth Hoe! New Britain also once organised a trip to pay respects at the graves of two more recent great British heroes – Sir Winston Churchill and John Enoch Powell. In addition the organisation also regularly participated in the annual Remembrance Day commemorations at the Royal Naval War Memorial in Chatham.
| | | |
| --- | --- | --- |
| <![if !vml]><![endif]> | <![if !vml]><![endif]> | <![if !vml]><![endif]> |
The highlight of New Britain's year was always the annual Goldsmith Lecture, named in honour of the great EuroSceptic activist and founder of the Referendum Party, Sir James Goldsmith, at which a prominent Conservative politician would give an address on an important issue of the day. Pictured above are three of the most prominent personalities who addressed a Goldsmith Lecture: Lord [Norman] Tebbit (left), Sir Teddy Taylor (centre) and Zac Goldmith MP (right).
Through his position as a Common Councilman of the City of London Dennis Delderfield enjoyed close contacts with Buckingham Palace, and would often receive letters of acknowledgement from the Queen's private office for activities which he organised to strengthen Commonwealth friendship. He revealed that New Britain received strong secret support from one particular member of the Royal Family, though we of course feel it wise not to name this member.
---
The History of The 343 Group
The 343 Group was founded in 2005 by Mr. Brian Danes with assistance from Ms. Lindsay Jenkins. It was originally intended to act as a mouthpiece for all those Conservative supporters who lived in constituencies without Conservative MPs (hence the name!). The organisation never had any formal membership however, and indeed rarely held meetings of its own, but it did produce a number of well-researched and highly acclaimed "Fact Sheets", which can be viewed here.
---
Return to The Patriotic Forum Home Page